Will Tom Welling Reprise Superman On Supergirl?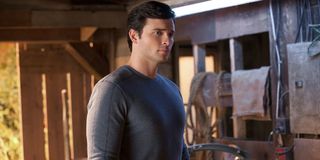 Although Superman's presence looms large in Supergirl, he has yet to be clearly seen in the CBS series. While Daniel DiMaggio will play a teenage Kal-El in the upcoming episode "For The Girl Who Has Everything," so far his adult self has only been hazily glimpsed in the pilot and "Fight of Flight." It's still unclear if the show will ever cast a regular actor to play Superman in a few of Kara Zor-El's adventures, as his presence would no doubt overshadow his Kryptonian cousin. Still, the thought of who might play the latest Man of Steel on TV is an intriguing one. Well, Tom Welling, who played Clark Kent for a decade on Smallville, has some thoughts on coming back to reprise the role. As he put it:
During an interview with Buzz Feed writer Jarett Wieselman, Welling said that no one has approached him about playing a different version of Superman on Supergirl, but, even so, it might be too weird for him to return to the role.
Welling played Clark in Smallville from 2001 to 2011, where the series followed Clark's younger years as he used his powers and met his familiar allies and enemies. However, Welling's Clark didn't become Superman until the series finale, and even then we never got a clear, full-shot of him in the costume. So if he were to appear as Superman on Supergirl, this would be his first time playing a Man of Steel who's experienced and been a public figure for years, and he's certainly at the right age to do it. Still, it doesn't sound like is Welling particularly keen on returning to that part of his career.
The actor's next project is the CBS drama project Section 13, which he would both star in and executive produce. While that's still in early development, if it gets picked up, Welling will probably be too busy to have a recurring presence on Supergirl. Plus, with Superman currently being played by Henry Cavill in the DC Extended Universe, it's possible the character is off limits for the small screen, which seems to be the case for every DC hero who isn't Flash or Green Arrow.
Even if Welling playing Clark again isn't in the cards, there's no reason he couldn't play another role. Helen Slater, who played Kara in the 1984 Supergirl movie, and Dean Cain, who played Superman in the '90s series Lois & Clark: The New Adventures of Superman, currently recur as Kara's foster parents, Eliza and Jeremiah Danvers. It was also recently announced that Laura Vandervoort, who appeared alongside Welling as Smallville's Kara Zor-El, will appear on Supergirl as the supercomputer Indigo. So if the writers really want to include Welling somehow, they'll find a way.
New episodes of Supergirl air Mondays at 8 p.m. EST on CBS.
Connoisseur of Marvel, DC, Star Wars, John Wick, MonsterVerse and Doctor Who lore. He's aware he looks like Harry Potter and Clark Kent.
Your Daily Blend of Entertainment News
Thank you for signing up to CinemaBlend. You will receive a verification email shortly.
There was a problem. Please refresh the page and try again.