Watch The Big Bang Theory's Mayim Bialik Flash Piers Morgan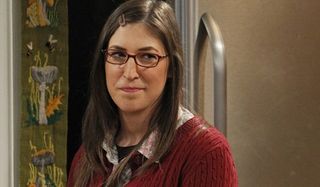 The Big Bang Theory's Mayim Bialik is really funny off the cuff. Recently, the actress reacted to Piers Morgan in a big way when she flashed her cleavage at him during an episode of the Late Late Show with James Corden. You can catch the wild late night moment, below.
To understand why Mayim Bialik might show her chest to Piers Morgan, you really need some context. Last week, the interwebs were all agog about Susan Sarandon showing a ton of cleavage at the SAG Awards. Piers Morgan had some not-so-nice things to say about Sarandon's cleavage, and he came on The Late Show with James Corden to explain why he had a problem with her SAG Awards outfit. In the bit he notes that he didn't like what she wore because she was presenting during the "In Memorium" segment, not because her chest was extremely apparent. But he called it tacky, and it led to a back and forth on the internet between Piers Morgan and feminists everywhere.
Mayim Bialik, who happened to be the other person sitting on the couch on James Corden's show, was obviously itching a little to do something as Piers Morgan recounted his side of the story. So, she ultimately opted to hop up and become a part of #cleavagegate, a movement of feminists who are now interested in showing Piers Morgan their goods in direct protest of Piers' comments about Sarandon's cleavage.
It was all in good fun, and Piers Morgan had a good laugh over The Big Bang Theory actress' gesture, so the moment did not end up being nearly as weird as it could have been. Cleavage has always been a pretty big sell on late night shows. We're still talking about that time Drew Barrymore flashed David Letterman way back in 1995. I don't think Bialik's statement to Piers Morgan will be as memorable in the cultural consciousness 20 years later, but it was still pretty unexpected. Plus, even if you aren't a fan of nudity, this late night moment is actually pretty tame.
Later in the video, Morgan recounts that he didn't expect to be seeing any cleavage on the couch that night and totally took his medicine a second time when Mayim Bialik showed him her chest once again. She also gamely cracked a joke about running into Susan Sarandon's cleavage from behind, making this one of the most humorous late night segments I've seen in recent memory.
The Late Late Show with James Corden has really been bringing its a-game lately, with more "Carpool Karaoke" segments and plenty of other memorable moments on the couch. It's hard to be a new player in the late night game, but if Corden keeps bringing cleavage into it, he should be doing pretty well moving forward. You can catch new episodes of The Late Late Show on weeknights at 12:37 p.m. ET, only on CBS.
Your Daily Blend of Entertainment News
Reality TV fan with a pinch of Disney fairy dust thrown in. Theme park junkie. If you've created a rom-com I've probably watched it.
Your Daily Blend of Entertainment News
Thank you for signing up to CinemaBlend. You will receive a verification email shortly.
There was a problem. Please refresh the page and try again.