Watch Terry Crews And James Corden Hilariously Show People How To Work Out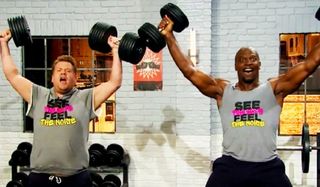 For those who do not regularly make their way to the gym, the experience can prove somewhat daunting. Sure, you can learn proper technique from a how-to video, but not knowing the types of noises to make in the gym can make for an uncomfortable experience. Fret no longer, as actor Terry Crews appeared on CBS' The Late Late Show with James Corden to provide us with some much needed guidance. Check the recent clip out for yourself below.
The segment begins with Corden finishing up a bench press set and then addressing the audience; he explains what the aforementioned issues of noises in the gym, and then brings in the comparatively beast-like Crews. Corden taking the lead, they begin to compare form and grunting styles as they move from dumbbell curls, to power cleans and various other lifts – of which Crews clearly has more experience. As the tutorial progresses, the duo share some seemingly lighthearted jabs at one another that quickly escalate in severity and malice. Eventually, the two seem to come to a begrudging respect for one another – each in awe of the other's high-energy workout regimen.
Between the two, Crews in particular has built a successful career off of his ability to eschew the stereotypes associated with a gym rat. The segment on The Late Late Show even bears remarkable similarity to an appearance the actor made on the sitcom My Wife and Kids years ago in which Crews trained Damon Wayne's character in the comical art of "Euro Training."
While his physique has most certainly aided him in many of his roles – see: The Expendables – he exudes a charisma that allows him to transcend the typecasting that many muscle-bound actors find themselves caught in. It's this ability to eschew the trappings of a traditional "macho man" persona that has made Crews so effortlessly likeable. Sure, he may look and act like an action hero, but he arguably has had more roles that mock the notion of being macho than actually embrace it, such as President Camacho in Idiocracy and his hilarious Old Spice commercials. Perhaps his most has iconic came when he showcased his ability to dance and sing in the comedic film White Chicks.
Or even his current role as the warm-hearted detective sergeant in Brooklyn Nine-Nine.
While you likely won't get any truly usable fitness tips from the video, it's good for more than a few laughs. If nothing else it's a firm reminder not to feel self-conscious about the noises you make when trying to get a workout in.
Originally from Connecticut, Conner grew up in San Diego and graduated from Chapman University in 2014. He now lives in Los Angeles working in and around the entertainment industry and can mostly be found binging horror movies and chugging coffee.
Your Daily Blend of Entertainment News
Thank you for signing up to CinemaBlend. You will receive a verification email shortly.
There was a problem. Please refresh the page and try again.