Watch Cersei Perform Insults From The Bachelor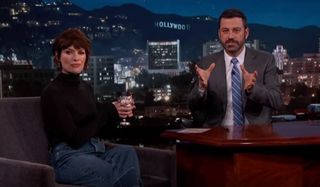 When it comes to HBO's Game of Thrones, there are plenty of types of characters. Some are good, some are bad, and some are just plain mean. One of the meanest has to be Cersei Lannister. The five seasons that have aired so far have seen her change drastically in circumstance, but actress Lena Headey has only gotten better with time. She recently channeled her inner Cersei on Jimmy Kimmel Live to perform a few lines taken from The Bachelor. Check it out!
Lena Headey could not have dressed less like her character if she had tried, but the icy condescension of Cersei was as chilling coming out of an actress in jeans and a shirt as it ever was coming from a queen in a flowing gown. Many kudos to Lena Headey for pulling it off on the fly.
Of course, the goblet couldn't have hurt her chances of getting into character. Appearing on a talk show in pants with short dark hair certainly wouldn't have put anybody in the mood to channel a character from a medieval series, but the cup of wine that Cersei has come to favor for pretty much any occasion must have been a helpful prop.
The background music to the litany of Bachelor insults is no "Rains of Castamere," and we can be pretty confident that composer Ramin Djawadi who created one of the most hummable theme songs in all of television had no hand in it, but Lena Headey's deliveries were enough to send shivers down the spine. Who needs a creepy song about an entire family line being brutally extinguished when Cersei Lannister threatening to punch somebody in the face is an option?
The clip might not be as enjoyable as it is if we were not starved for new Game of Thrones material. The show has been off the air since its Season 5 finale back in June, and it won't be returning to HBO for Season 6 until the end of April. For those of us who have already gotten our fill of rewatches and have even read the books for fixes of the world of Westeros, clips such as this are wonderful ways to soothe the sting of the wait.
It is nice to see Lena Headey looking significantly less miserable on Jimmy Kimmel Live than she did when last seen on Game of Thrones. Cersei is hardly the most sympathetic character of the show, but it was difficult not to feel for her during her naked walk of shame through the streets of King's Landing. Seeing Lena Headey fully dressed with goblet in hand may help get us back in the mood to not feel bad for Cersei at all.
Game of Thrones won't be back until April, but you can check out our list of midseason TV premiere dates to find some great shows to watch in the meantime.
Resident of One Chicago, Bachelor Nation, and Cleveland. Has opinions about crossovers, Star Wars, and superheroes. Will not time travel.
Your Daily Blend of Entertainment News
Thank you for signing up to CinemaBlend. You will receive a verification email shortly.
There was a problem. Please refresh the page and try again.