Britney Spears Dealing With Dog Troubles Again After Pup Sam Asghari Gave Her Escaped And Animal Control Got Involved
What's with all these doggone problems?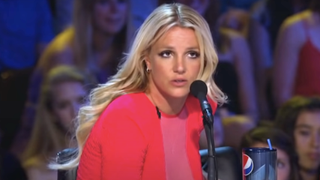 (Image credit: Fox)
Britney Spears has steadily made headlines over the past several months for a plethora of reasons. Much of the chatter has revolved around the bikini pics and other posts she's shared to social media or the purported intervention for her rumored substance abuse. She's also been called out for allegedly storming out of a restaurant. However, this week, Spears found herself in a different kind of situation involving one of her furry friends. The pop star is dealing with (more) dog troubles after a pup given to her by husband Sam Asghari got loose, and animal control ended up getting involved.
Why Did Animal Control Get Involved In Britney Spears' Latest Dog Situation?
Britney Spears is the owner of several canines, including a doberman named Porsha. Sources tell TMZ that the pooch wandered around Spears and Sam Ashghari's Thousand Oaks neighborhood after somehow escaping the property this past Thursday. It's said that the dog eventually came across a man riding his bike. The individual, who's in his 70s, reportedly got off his cycle before the dog bit him in the leg. Shortly after, a member of Spears' security team arrived on the scene to get a hold of the animal.
Per the news outlet, the man who was bitten subsequently got his injury treated at an Urgent Care. Additional sources also claim that he only got a "nip" from the dog as opposed to a full-blown bite. Nevertheless, the songstress allegedly got a call from animal control in the aftermath. The public service entity reportedly suggested that the 41-year-old star and her hubby take measures to ensure that their pet doesn't get away from the premises again.
There's no information regarding how the "...Baby One More Time" singer responded to the call. However, one would think that she and her husband would prefer that none of their fur babies get away from the property. Porsha, like her other pets, seems to be very special to her and, as noted by TMZ, she posted about the dog after Sam Asghari gifted it to her in October 2021. (Ironically, at the time, she shared a video in which she stated that the dog would be trained to protect.) The hound's arrival actually came shortly after another canine-related situation for Spears.
Two Of Britney Spears Dogs Seemingly Went Missing At One Point
In August 2021, it was reported that Britney Spears and her housekeeper had reportedly gotten into an altercation regarding two of her dogs. And early that month, the pooches apparently disappeared. At the time, Spears was under the impression that her father, Jamie (who oversaw her dissolved conservatorship), was somehow responsible. But in actuality, that wasn't the true cause.
Per reports, the dogs were taken away by a dog-sitter and housekeeper after they expressed concern about the animals' health. News outlets like Page Six alleged that the canines were not being treated well and were near death when they were taken to the vet. Apparently, the sitter just hadn't returned the pups but eventually did so by the end of that August.
It's likely that with this latest situation now seemingly resolved, Britney Spears will get back to her social media hijinks. One would assume that she and Sam Asghari will be sure to keep a closer eye on Porsha and their other dogs unless they want further dealings with animal control.
Your Daily Blend of Entertainment News
Covering superheroes, sci-fi, comedy, and almost anything else in film and TV. I eat more pizza than the Teenage Mutant Ninja Turtles.