Candace Cameron Bure Is Fine Talking Sex And More Intimate Details With Her Fans, But How Does Her Daughter Feel?
Natasha Bure has to hear her mom's comments too.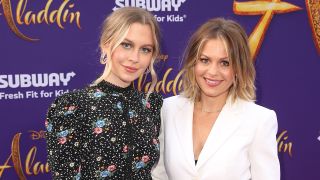 (Image credit: (Photo by Jesse Grant/Getty Images for Disney))
Candace Cameron Bure had one of of the biggest viral moments during the pandemic when she posted a photo of her husband Val Bure grabbing her boob. The pic was a controversial one, but Bure defended the move, as well as has embraced being open about her sex life with her longtime partner. Now, her daughter has spoken about her mom's frequent viral moments and how they make her feel.
Natasha Bure's On Her Mom's Viral Boob-Grabbing Photo
As it turns out, Natasha Bure found that photo of Val Bure pawing at her mother to be honestly "hysterical." It's a take a lot of other people had when the image went viral, though it's worth noting not everyone was happy with the image.
The "boob grab" of 2020 ended up being Bure's most popular post that year and lives in the collective pop culture memory to this day. Her daughter's comment probably shouldn't come as a huge surprise given Bure reportedly joked it was her "favorite pic" of her mom in the past.
However, funny pics are one thing, speaking out about one's sex life is quite another. In fact, it was the Full House star's comment about her active sex life with Val Bure that may have really been what riled up her adult daughter (and possibly her other two kids Maksim and Lev). Bure told US Weekly about the statements her mom sometimes makes about sex:
That hasn't stopped her famous mother; however, if you've wondered how the Netflix and GAF star feels about saying some of this stuff out loud, she has commented on it before.
How Candace Cameron Bure Feels About Potentially Embarrassing Her Kids
Bure has spoken in the past about how she thinks her kids probably feel about her candid sex talk. She actually thinks they are probably mostly "fine" with it, but there are rare occasions where it doesn't play.
So, it seems she at least has situational awareness when it comes to how her comments have played out in the media in the past.
As for her daughter, Natasha Bure is famous in her own right, having acted in projects in the past (including a Hallmark movie where she starred as a younger version of her mom's character). She's spoken in the past about growing up in the limelight and how people feel she's a Full House nepo baby. Though she feels it's "the opposite" and it's harder to get work because of her famous mother, it's certainly a facet of her life that is unique to celebrity kids.
As for Candace Cameron Bure, it isn't just sex comments that have had people's tongues wagging. The mom of three also drew backlash earlier this year when discussing her new GAF career and how her new movie will focus on "traditional marriage." In that case, her daughter was defensive, noting the Internet was a "vile space for negativity" in relation to the GAF blowback. So, even if her mom can occasionally be cringe, their relationship seems to have a strong foundation.
Your Daily Blend of Entertainment News
Reality TV fan with a pinch of Disney fairy dust thrown in. Theme park junkie. If you've created a rom-com I've probably watched it.