Max Thieriot And Fire Country Stars Weigh In On The CBS Drama's Messy Love Triangle
Fire Country's love triangle gets more complex every week...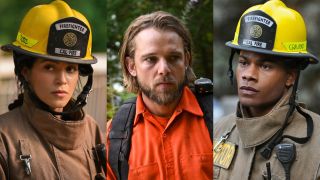 (Image credit: CBS)
While the majority of any given Fire Country episode is typically devoted to the week's fire and/or rescue, another major aspect of the first season's plot been in regard to the love triangle forming between Bode, Gabriella and Jake. So, now that we're well into the second half of the season on the 2023 TV schedule, and the stakes seem to get higher with every episode, the three actors from the Fire Country cast who play these characters – Max Thieriot, Stephanie Arcila, and Jordan Calloway – are weighing in on the complexities of their romantic relationships.
While speaking with TV Insider all three actors involved in Bode's complex love triangle weighed in on how their characters feel about the status of their respective relationships, specifically when it comes to both boys crushing on Arcila's character. Thieriot opened up about how Bode's been trying to suppress the "undeniable" feelings for Gabriella, saying:
"Juicy stuff" is a great way to describe what's going down right now between Bode and Gabriella, as the feelings begin to heighten, especially after she saved him after he fell off that bridge. However, Bode hasn't acted on his feelings because Gabriella was in a relationship with Jake, who used to be his best friend. Talk about complicated…
However, things may have gotten a little less complicated after Gabriella admitted to Jake that she has feelings for Bode. Although, Calloway made it clear that even though they're broken up, Jake will not go down without a fight. The actor behind the Cal Fire vet said:
Can you blame him? Having the gal you love tell you she's into another guy is no easy thing to hear, and I can't blame Jake for wanting to fight back a bit.
However, when you consider what Gabriella is going through with her complex romantic feelings, I think she handled the situation as best she can. She and Bode haven't done anything romantic, however, their chemistry is electric, and there's no denying the connection. So all things considered, I think Arcila described Gabriella's actions best, by saying:
As new episodes of Fire Country continue to drop I assume this triangle is about to get more complex, especially when it comes to Gabriella and Bodes' relationship. Plus, following the Season 2 renewal of Thieriot's show and the rise in viewership recently, I think we're in this for the long haul with these three, and I can't wait to see what happens next.
While it's exciting to think about these characters' futures, I'm a little concerned going into this week's episode since the show's executive producer teased that there could be an upcoming death on Fire Country. Even though I don't think Bode, Gabriella and Jake will be the character to pass away, I'm assuming it will impact every character, and maybe make this triangle messier.
To keep up with all the nuances of this Fire Country love triangle, you can catch a special episode of Fire Country today after the AFC championships, and every other week new episodes drop on Friday at 9 p.m. ET on CBS, or you can stream the drama the next day with a Paramount+ subscription.
Your Daily Blend of Entertainment News
Riley Utley is a Weekend Editor at CinemaBlend. She spent many years working in local journalism across the country writing about art, news and sports. One of her favorite films is When Harry Met Sally and she walks around constantly quoting Ted Lasso.