The Fire Country Creator Teased An Upcoming Death, But Who Could It Be?
It sounds like things are about to go downhill for Cal Fire.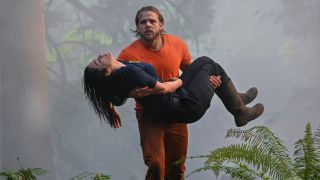 (Image credit: CBS)
While every episode of Fire Country has come with a fair level of stress this season, they've 100% upped the ante with the new episodes on the 2023 TV schedule with many characters being put in intense situations. Although now, as these characters recover from injuries, put themselves in danger on a weekly basis, and deal with a scary diagnosis things are getting more intense, and according to the drama's executive producer, someone isn't going to make it to the end of the season.
So far, there have been no major casualties in Fire Country, however, there have been big scares. Although now, the CBS drama's executive producer Tia Napolitano has teased that someone in the Fire Country cast will not make it through the season, explaining to TV Insider:
Well, this is not good news. It does seem that death was inevitable on this show, however, I'm really not sure who it will be. Although I have a couple of guesses of who might not make it to the end of Season 1, so let's go through them.
Sadly, it seems the character who is most likely to not survive Season 1 is Bode's mom Sharon Leone. Diane Farr's character is battling kidney failure, and while her son is a match for a donor, things are bound to be difficult, considering Max Thieriot's character is under strict protocols in the prisoner camp. So, with that said, and considering the health complications Sharon has faced, she seems like one of the characters who might die this season.
Napolitano commented on Sharon's future, and if she'll live through this, saying:
However, firefighting is a dangerous gig, and many other characters have put their lives on the line this season. With that said, someone might end up stuffing a fatal injury on a job while trying to put out a fire or rescue someone. For example, so far Bode almost died falling off a bridge, and Gabriella jumped off said bridge and almost suffered from hypothermia. It's plausible, something like that will happen again, however, this time someone won't survive.
Not to mention, Manny seems to be in some trouble after suffering from his gambling addiction and being in some serious debt. So, I'd say we can't leave anyone out when considering who could possibly die in Season 1. It's a dangerous show, and with every episode, a new character puts their life on the line.
Luckily, even though one character won't make it through the season, we do know we'll be seeing a lot more of Fire Country over the next year. The show has been on fire this season, as it picked up an early full season order from CBS last fall, a Season 2 renewal early this year and is continuing to build on its core audience in 2023. So, it makes sense that as the show grows, so will the stakes. However, we'll just have to wait and see who won't be around come Season 2.
To see what happens next, and if this week is the week we lose a character, you can watch Fire Country every Friday at 9 p.m. ET on CBS, or stream the next day with a Paramount+ subscription. Plus, be sure to mark your calendars, because you can catch a special episode of the CBS drama this Sunday, January 29, after the AFC Championship Game.
Your Daily Blend of Entertainment News
Riley Utley is a Weekend Editor at CinemaBlend. She spent many years working in local journalism across the country writing about art, news and sports. One of her favorite films is When Harry Met Sally and she walks around constantly quoting Ted Lasso.