Succession Fans Are Hilariously Distraught Over The Series Ending Though The Creator Explained Why Season 4 Will Be The Last
It's time to say goodbye to the Roys, but the fans don't want to.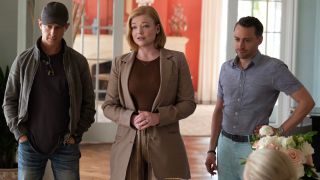 (Image credit: Photograph by Claudette Barius/HBO)
Now able to watch Succession Season 4, fans are starting to get excited about the return of the Roys. However, the excitement turned into distress recently as the showrunner announced that the upcoming season of the drama would be the last. So, while Jesse Armstrong gave a good reason as to why the HBO series is coming to an end, the fans are hilariously distraught about not having another season with this powerful family, and they did not hold back while sharing their thoughts.
Why Is Succession Ending?
Succession's end definitely seems sudden, especially since Jeremy Strong recently opened up about how it will feel leaving Kendall Roy at some point, not indicating it would be anytime soon. Though according to creator Jesse Armstrong, Season 4 just creatively feels like the best way to end it, as he tells The New Yorker:
While Succession ending is a disappointment, it almost seems rare these days that creators/writers/producers get to choose when their show ends because the TV landscape is unpredictable and shows get canceled all the time. It makes sense that Armstrong would want to end his series when there is still time to wrap up stories and when the series is still a hit. He continued to explain his reasoning, saying:
Season 4 of Succession is set to premiere in March, which doesn't give fans much time to prepare for the end. Since Season 3 of the HBO series did end over a year ago, fans are likely getting antsy, anyway, but now that we know the upcoming season is going to be the last, the stress is high about how it will all end. However, once those final interviews are published, it will definitely start to feel like the end, and Jesse Armstrong won't be the only one getting emotional.
The Fans Of Succession Are Hilariously Stressed About The Show Ending
Meanwhile, fans have been having a hard time dealing with the announcement, as many have taken to Twitter to express their hilarious and distraught thoughts about Succession ending. One user used a Taylor Swift song to describe their feelings, even if it's a bit inaccurate (because four seasons is quite a long time):
Four seasons may sound like a decent amount for any show, but considering the number of episodes per season, which on average is just 10, and the amount of time between each season -- which was a year between Seasons 1 and 2, and two years between Seasons 2 and 3 -- it feels like we haven't gotten enough of the Roys. Another fan perfectly used a gif to show off their imminent breakdown about this, which is likely what the entire fandom feels:
Another fan on Twitter used a clip from The Office where Michael says he's going to kill himself, and it's Jim's fault. I think you can put two-and-two together of who is who in this situation:
Giving fans just a month to get ready for the end of Succession is definitely not ideal, especially since they've been excited for it to come back and have been waiting for a while. One fan used a pretty accurate clip from the Emmy-winning series that likely describes how most people are feeling:
Meanwhile, some fans are just in denial about Succession ending, with one Twitter user even threatening to tie down Jesse Armstrong and force him to write a fifth season:
Armstrong better watch out because, from the looks of these tweets, everyone is in a state of denial, heartache, disappointment, and/or all-around sadness, and their means of showing these emotions are hilarious. I have to say though, I don't blame them. Seeing a beloved show come to an end is never easy, especially when it's so sudden. Luckily it sounds like there's a plan to make sure that everything is wrapped up.
As you process your feeling about the end of Succession, you can prepare to say goodbye to the Roy family by streaming the first three seasons of the drama with an HBO Max subscription, and then tune into Season 4 when it premieres on HBO Sunday, March 26. Also, be sure to check out CinemaBlend's 2023 TV schedule to see what else is coming this year.
Your Daily Blend of Entertainment News
Passionate writer. Obsessed with anything and everything entertainment, specifically movies and television. Can get easily attached to fictional characters.