The Latest On Prince Harry And Meghan Markle's Royal Eviction Drama: 'There's Been A Bit Of Blowback'
There's been blowback about the eviction.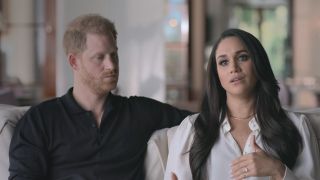 (Image credit: Netflix)
With King Charles III's coronation on the horizon, there has been a lot of talk about if Prince Harry and Meghan Markle will attend the ceremony, as well as buzz about the couple being evicted from Frogmore Cottage, causing people to think they might be closer to "exile" from the family. However, that news caused "a bit of blowback" a source recently explained, and now it seems like the Duke of Sussex's father might be offering him and Markle an olive branch of sorts.
Why Prince Harry And Meghan Markle Were Evicted
While the decision to evict Prince Harry and Meghan Markle is not officially connected to the release of the Duke of Sussex's memoir Spare, it did happen shortly after the book's release.
The couple received news on March 1 that they needed to "vacate their residence at Frogmore Cottage," per Fox News, and the report explains that the process of eviction began on January 11. Spare was released on January 10. It's been reported time and time again that King Charles and the Royal Family are not pleased with the accusations and revelations in Spare. While Prince Harry took back his narrative with the book, it had a negative effect on not only his and Meghan's popularity but also the public's opinion of William and Kate. The revealing book made waves, and it seems like the Royal Family is not happy about it.
So, when this news was announced, it makes sense that people would assume it was connected to Spare and everything said in both the book and their docuseries Harry & Meghan. However, there is more to this story, because it's not just the blowback from the news about the eviction, the King has also been figuring out where to move his disgraced brother Prince Andrew. Now, it seems like everything is shaking out, and after being moved from Frogmore Cottage, the couple will reportedly get a new apartment in Buckingham Palace.
Why 'There's Been A Bit Of Blowback' About The Decision, And What Could Happen Next
Following the news that the couple would be kicked out of Frogmore Cottage, it appears King Charles III could give them a new place to live. According to Christopher Anderson, the author of The King, the king might offer Meghan and Harry an apartment in Buckingham Palace, Fox News reported. The article explained that if the king makes this offer it would be a peace offering to his youngest son before the coronation, following criticism regarding the choice to evict them. Anderson elaborated on why King Charles would make this decision, noting the "blowback" that came after the decision to evict Harry and Meghan became public.
While this offer would serve as a peace offering during these turbulent times for the Royal Family, another expert, Shannon Felton Spence, explained that it's only realistic for the King to offer his son a secure apartment, explaining:
Based on the reported dates that the eviction process started, it seems like Spare had something to do with this. However, Felton Spence explained the offer to move Harry and Meghan to Buckingham Palace is "not a diss." Prince Andrew is said to be moving to Frogmore Cottage, which is a downsize from his last home at the Royal Lodge, he also will not need space at Buckingham Palace. The royal expert explained that moving Andrew to Frogmore is actually "downgrading" his living situation, and putting Harry and Meghan in Buckingham Palace is something they'd likely want.
Clearly, the eviction of Meghan and Harry is an incredibly complex situation, and it seems Prince Andrew also plays a pretty big role in the King's decision. While Harry and Meghan's relationship with the rest of the family is for sure strained, if this report about them being moved to Buckingham Palace is true, it seems like the king is responding to the blowback, and trying to keep the peace with his youngest kid.
Also, it's been confirmed that Prince Harry and Meghan Markle have been officially invited to the coronation. We don't know if they'll travel to the UK for the ceremony or stay in California, however, if they decide to attend they likely will not sit with the Royal Family.
King Charles' coronation will happen on May 6, so be sure to check out the 2023 TV schedule to find out how to watch it. In the meantime, we'll be sure to keep you updated on the Duke and Duchess' living situation in England and their decision regarding their attendance at the coronation.
Your Daily Blend of Entertainment News
Riley Utley is a Weekend Editor at CinemaBlend. She spent many years working in local journalism across the country writing about art, news and sports. One of her favorite films is When Harry Met Sally and she walks around constantly quoting Ted Lasso.