Wednesday's Jenna Ortega Has Only Heard 'Scary Things' About Hosting SNL Ahead Of Her Debut
Jenna Ortega got some very honest insight into SNL.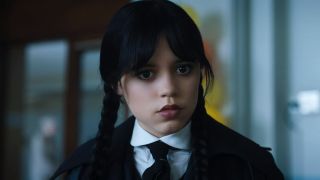 (Image credit: Netflix)
As one of Hollywood's rising scream queens, Jenna Ortega has seen her fair share of "scary things" throughout her brief (and fruitful) career. The actress stared down dangerous entities as the titular character on Netflix's Wednesday and went toe to toe with killers in Scream and X. However, Ortega is now preparing to take on her most daunting challenge yet – Saturday Night Live. The star is set to serve as an SNL Season 48 host in March, and her fans are undoubtedly excited. But thus far, Ortega herself has heard interesting stories regarding what it's like performing at 30 Rockefeller Plaza.
There are plenty of things that can make one's spine tingle but, to most, Saturday Night Live may not seem to fit that bill. However, one should know that it takes a village to prepare for those weekly episodes. Jenna Ortega was fortunate enough to get a bit of inside information ahead of her debut. Although, you can't help but think that a part of her wishes people wouldn't have been quite so honest when describing the experience to her:
Well, the Disney Channel alum seems to be maintaining an upbeat attitude despite the "scary" stories she's heard so far. As she mentioned to ET, she believes she'll have a "delightful" and "wonderful" time when she arrives. Plenty of fun is sure to be had behind the scenes, though you still can't underscore just how much work goes into making the series possible.
A number of SNL cast members and former hosts have discussed what the week leading up to a show entails. Those days are typically filled with plenty of table-reads, costume fittings and rehearsals (oh my). On top of that, last-minute changes can also shake things off, creating a bit of pressure for the cast and crew, so there are plenty of things to take into consideration. For example, while Lizzo prepared for her SNL hosting gig in April 2022, she revealed that she was most "nervous" about breaking during a skit. That's something that the stars aim not to do on air, but it does happen – much to the delight of the live audience and viewers at home.
Jenna Ortega doesn't seem to be sweating stuff like that, though, and I'm tempted to believe that the 20-year-old actress is going to put on a great show. After all, if she was able to make it through that strenuous-sounding Wednesday shoot (which included her performance of that viral dance), she should be fine here. Speaking of the Addams Family spinoff, I wouldn't be surprised if SNL somehow lampoons it in a sketch. I mean, how can the writers not touch that popular dance in some shape or form?
There's still time left for the actress, who's part of the Scream 6 cast, to prepare herself for what's to come. Let's hope that she manages to keep calm when she truly dives into the work. Let's hope SNL doesn't prove to be a scarier experience than the horror productions the "spooky girl" has starred in.
Watch Jenna Ortega host Saturday Night Live when her episode airs March 11 at 11:30 p.m. ET on NBC as part of the 2023 TV schedule. And if you've yet to check out Wednesday, stream that coming-of-age series using a Netflix subscription.
Your Daily Blend of Entertainment News
Covering superheroes, sci-fi, comedy, and almost anything else in film and TV. I eat more pizza than the Teenage Mutant Ninja Turtles.