Yellowjackets: What To Know About The Showtime Series Before You Watch
Just in time for Season 2.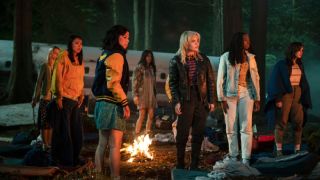 (Image credit: Showtime)
When it comes to the best Showtime shows, what are the ones that you think of first? Maybe you think of Dexter, or you might think of the Bryan Cranston-led, Your Honor, but I've been thinking of Yellowjackets for some time.
Ever since it came out in 2021, this show has been on my mind, and I am so freaking excited for Yellowjackets Season 2. If you're one of the few people who has been seeing all the hype for this second season and are still wondering what the heck this show could possibly be about, here are four things you should know before you watch Yellowjackets Season 2.
Yellowjackets Is A Thriller About A Soccer Team Trying To Survive In The Canadian Wilderness
First off, let's get into the basics – what is Yellowjackets even about?
It cuts back and forth between two separate storylines. One takes place in the 1990s, and follows a group of girls who are part of a high school soccer team and are on their way to a national championship when their plane crash lands in the remote Canadian wilderness.
With no way to contact help, and no idea how to survive, it's a struggle to make it out of this alive. They must do everything in their power to make it through – even succumbing to dark methods.
This story is intertwined with the modern-day stories of the survivors and their memories from that time in the forest, and how even if they've been trying to keep what happened back then a secret, their past comes back to haunt them in more ways than one.
The show is truly one of the best dramas right now, and will have you on the edge of your seat from the moment you begin Episode 1.
The Show Features A Stellar Ensemble Cast
With there being two completely different timelines, the show tends to jump back and forth between the younger and older versions of characters, but no matter what time you are in, everyone in the Yellowjackets cast is impeccably talented.
In the younger generation, we have actresses such as Ella Purnell, who has been in the hit Netflix show, Arcane as well as Army of the Dead, Jasmin Savoy Brown, who is in the upcoming Scream VI, Courtney Eaton from the Mad Max: Fury Road cast, and so many more talented stars.
The adult cast includes Melanie Lynskey, who has made headlines in 2023 for her recurring role in The Last of Us, Christina Ricci, who is known for playing several awesome roles like Wednesday Addams, Tawny Cypress and many others. Truly, everyone brings their A-game to this show – and you'll see it from the moment you begin watching.
Yellowjackets Is A Dark Series With Plenty Of Violence
Yeah, Yellowjackets is not for the faint of heart. From the first episode of this show, you know instantly that it's going to be a dark series – and the violence is plentiful.
This is coming from someone who watched all of The Walking Dead seasons and Game of Thrones and is quite desensitized to on-screen violence, but some of what happens in this show still made me cringe. Maybe because it felt almost too realistic at certain times, but I suppose that's what makes for good television.
The Show Is Rated TV-MA
Yeah, keep your kids away from this one. Like most Showtime series, Yellowjackets is rated a hard TV-MA, so better to wait until the kids are asleep to check out this dramatic series.
Yellowjackets Has One Season That You Can Watch On Showtime
If you're at all interested in watching Yellowjackets, there's one season to stream on Showtime, while the second season will be premiering on March 26th, 2023. The show was nominated for several Emmys and multiple other awards, so you won't be wasting any of your time by watching.
Stream Yellowjackets on Showtime. (opens in new tab)
There's really so much to love about Yellowjackets, and I know for a fact that the moment you start, you won't be able to turn it off. Trust me, it only gets better – and far more gory – from there.
Your Daily Blend of Entertainment News
Big nerd and lover of Game of Thrones/A Song of Ice and Fire. Will forever hate season eight. Superhero and horror geek. And please don't debate me on The Last of Us 2, it was amazing!