Take A Look Inside Friday The 13th: The Game's Virtual Cabin Tour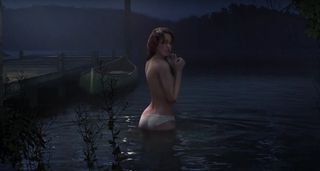 Friday The 13th: The Game is gearing up for its release with a new demo that takes you inside a virtual cabin at Camp Crystal Lake. It's in this cabin where you can listen to some sweet 80's jams, hear developer commentary and more.
If you watch the above video (or even skip through it), you can see the locked rooms in the cabin are all named after rooms from the board game, Clue (which is, of course, a game about murder), except for one room, aptly named Jason Room.
If you go over to the radio, you can play some music from the 80's era. The first Friday The 13th movie actually took place in 1980, so it only makes sense that 80's music would be blasting from the radio. There's also a number of other references that you need to look for in the Virtual Cabin.
You can only access the Virtual Cabin if you backed the game on Kickstarter, and if you did, you should've received a code for the demo. The Virtual Cabin is not only meant to show off what the game will look like, but also keep players up-to-date with what's happening with the game's development before release.
I have always been a fan of slasher movies, so when I got my hands on Until Dawn a while ago, it blew my mind with how cinematic it felt. Whenever I watch horror movies, I always have the characters I can't stand and the characters I really want to survive, and while it wasn't easy to keep people alive in Until Dawn, I could at least choose to kill off those who really irritated me. I'm glad to see slasher games have continued to hold gamers' interests even a couple years after playing Until Dawn.
Friday The 13th: The Game will be releasing on PS4, Xbox One and PC this Fall. You can still back the game and snag your copy (among a ton of other cool rewards like the digital soundtrack and art book) on Backer Kit.
Your Daily Blend of Entertainment News