New Video Shows Every Glitch Speedrunners Exploit In Mario Kart 64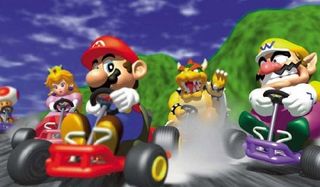 If you're going to take speedrunning seriously, then you'll want to exploit every trick in the book for your game of choice. If said game happens to be Mario Kart 64, then you'll probably want to take a gander at this latest compilation, which should give you every edge imaginable on your quest for speedrunning glory.
Recently uploaded by Youtube user Summoning Salt, this particular romp is called "World Record Progression: Mario Kart 64." Rather than scour oodles of videos highlighting the best tips and tricks pertaining to the classic Nintendo racing game, Summoning Salt has instead compiled everything into one 22-minute trek. Even if you don't plan on becoming a master of all things Mario Kart, it's worth checking out just to see how many little things you missed while cruising around the tracks in this Nintendo 64 racer.
Apparently, Summoning Salt has been at this whole World Record Progression game for quite some time, focusing primarily on Nintendo games. He's also tackled games like Super Metroid, Super Mario 64, Super Mario Bros. and Super Mario World. We're impressed by the thoroughness with which he picks these games apart, showing off tricks many gamers are already aware of, as well as quite a few surprises.
If you're looking to become a top contender in Mario Kart 64 (Maybe it'll return as an online multiplayer game for the Switch, yeah?) then you'll be happy to see that Summoning Salt takes a track by track approach to what some would argue was the best game in the entire Mario Kart series.
As Summoning Salt points out, there are some weird distinctions when it comes to calling a fast trip through a racing game a "speedrun." After all, isn't the entire point of a racing game to go as fast as humanly possible?
Well, it turns out that Mario Kart 64 was not just perfect for tips and tricks to get you through the races as quickly as possible, it was also a bit lousy with bugs and glitches that players could take advantage of.
We were also surprised to hear that Mario Kart 64 has such a big and active speedrunning community, even more than a dozen years after it first hit the market. What originally began as people trying to beat the tracks as quickly as possible has now turned into marathon sessions through every track, back to back, as quickly as possible. So not only do you need to have all of your tricks and glitches memorized, but you also need to perform them perfectly, one track after the next, in order to stand a chance in the rankings.
If you've got some time on hand, it's a fun watch through a bit of interesting video game history.
Staff Writer for CinemaBlend.
Your Daily Blend of Entertainment News
Thank you for signing up to CinemaBlend. You will receive a verification email shortly.
There was a problem. Please refresh the page and try again.