Star Wars Battlefront 2 Character List May Reveal A Major Campaign Spoiler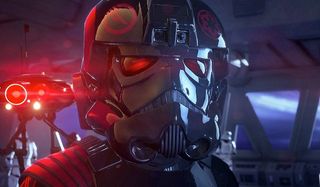 Warning: This story contains potential spoilers for Star Wars Battlefront 2.
We've still got four months until Star Wars Battlefront 2 drops, but that hasn't stopped the rumor mill from churning into top gear. And according to the latest tidbit, a character list from a supposed alpha test may have revealed a pretty major spoiler for the upcoming game's campaign. If the latest buzz is to be believed, protagonist Iden Versio might just be a turncoat.
Again, there's a lot of speculation going on here, but it all seems pretty plausible. For starters, a recent post over on reddit (via Polygon) comes from a person claiming to be involved with an ongoing alpha test period running for Battlefront 2. There was already buzz that an alpha was up and running, so that at least adds some weight to the following claims.
According to the post, an incomplete hero roster has been datamined from the alpha including the following characters:
Boba Fett
Han Solo
Leia
Luke
Bossk
Chewbacca
Darth Vader
Emperor
Grievous
Iden
Kylo Ren
Lando
Maul
Phasma
Rey
Yoda
Once people broke those into teams, it turns out there are seven for the Rebels and eight for the Empire. Folks have noted that Finn is not included in the list even though he has been confirmed as a DLC hero. However, Captain Phasma is listed as a hero for the Empire even though she is also a DLC hero.
But we all know how the internet works, so of course speculation started flying around immediately. The theory that seems to be earning the most traction is that the spot left open is for none other than the game's protagonist, Iden Versio. One of the coolest details revealed about Battlefront 2 so far is that the story will focus on a soldier fighting for the Empire. That's a nice change of pace, since we don't often get to play as "the baddies." More importantly, it means the writers are going to have an opportunity to tell a story we don't get to see too often, one where they make the "villain" the "hero." It's said that every villain is the hero of their own story. In other words, the folks fighting for the Empire don't see themselves as evil. They are the governing body and the Rebels are exactly that, a group of extremists trying to overthrow them. So, yeah, it might be pretty cool to see this kind of story play out in a believable fashion.
If these Battlefront 2 rumors are to be believed, though, there's the potential that something happens in the campaign that convinces Versio to switch sides. Honestly, I really hope that's not the case. I hope that Finn belongs in that random empty slot and Versio's role is one tied to the Empire. From a storytelling standpoint, that's far more interesting than, "okay, so maybe the bad guys are actually bad guys."
We are, of course, open to your own interpretations. Let us know your thoughts and theories in the comments below. Otherwise, look for Star Wars Battlefront 2 to launch on PlayStation 4, Xbox One and PC on Nov. 17.
Staff Writer for CinemaBlend.