New Red Dead Redemption 2 Trailer Reveals The Epic Story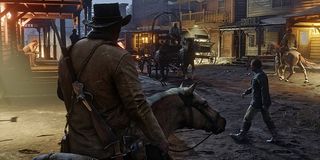 Grab your saddle and six-shooter, because Rockstar Games has finally released a new trailer for Red Dead Redemption 2, giving us a glimpse at the game's beautiful world and even a little taste of the conflict that will drive the story.
Not to get all hyperbolic, but I had to watch this trailer a couple of times just to take everything in. The first time through, I was too busy soaking up all of the details of the lush and living world we'll be riding our horses through when Red Dead Redemption 2 finally launches next year. The second time through, I actually paid attention to the characters and their tale of outlaws pursued to the ends of the earth by lawmen. Yep, this is shaping up to be a pretty epic action romp.
One of the first things you'll likely notice is that, as far as we can tell, original RDR protagonist John Marston is a no-show. He could be one of those fellows wearing a bandana over his mouth in several scenes, but we figure his absence was intentional in order to let the new protagonist, Arthur Morgan, shine.
Coming straight from Rockstar on the PlayStation Blog and directly in the trailer's background info, players will fill the boots of Morgan as he and the rest of the Van der Linde gang "rob, fight and steal their way across the vast and rugged heart of America" on a quest for survival. For those of you who played the first Red Dead Redemption, you'll remember the Van der Linde gang as being a big part of Marston's past that comes back to haunt him.
In other words, this reiterates the fact that Red Dead Redemption 2 is indeed a prequel, which is pretty exciting considering how often the Van der Linde gang's exploits were brought up in the original game. Players will now be able to live out that story directly in a world that -- I can't say this enough -- looks absolutely fantastic.
The only other piece of info we can really pull from the new trailer is something we already had a pretty good idea about: RDR2 isn't hitting PlayStation 4 or Xbox One until the spring of 2018. It was originally expected out this fall/winter but, as is usually the case with these things, we'd prefer Rockstar take whatever time they need in order to make sure the game delivers. The original Red Dead Redemption set a high water mark for the series, and we'd like to see this sequel surpass it.
So what do you think of the trailer, folks? Share your thoughts in the comments below. If you noticed any interesting connections, Easter eggs or the like, fill us in on those as well.
Your Daily Blend of Entertainment News
Staff Writer for CinemaBlend.