Which Exclusive Pokemon Will Be In Ultra Sun And Ultra Moon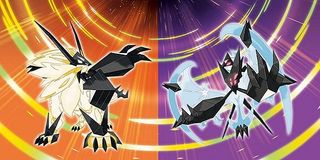 The latest Pokemon games are set to launch next month and, when they arrive, the two versions of the game will sport a collection of exclusive critters. So which Pokemon can only be captured in Ultra Sun and which ones can only be found in Ultra Moon?
The good news is that the roster of exclusive Pokemon in Ultra Sun and Moon are almost identical to those found in the original versions of the game. While it's not a perfect solution, that means if you bought the standard version of one game, you should probably buy the Ultra version of the other in order to get your hands on those exclusives without having to rely so heavily on trading. This is a system we last saw implemented with the standard and updated versions of Pokemon Black and White, rather than the old-school model where they bring out two versions of the game and then eventually offer a third version that simply brings everything together.
The list of version exclusives comes to us from WWG, who admit that the list is only accurate up to this point. In other words, additional exclusives might pop up before the games launch in November. The only big changes eagle-eyed fans of the original games will notice are the new Pokemon that have been announced for the Ultra versions. In other words, you shouldn't find a Pokemon in Ultra Moon that was originally available in standard Sun. That would just be evil.
So, here's the rundown of Ultra Sun exclusives:
Dusk Mane Necrozma
Solgaleo
Turtonator
Passimian
Alolan Vulpix
Alolan Ninetales
Tirtouga
Carracosta
Houndour
Houndoom
Rufflet
Braviary
Cottonee
Whimsicott
Cranidos
Rampardos
UB: Burst
Buzzwole
Kartana
Now here's the list of exclusives for Ultra Moon:
Dawn Wings Necrozma
Drampa
Oranguru
Alolan Sandshrew
Alolan Sandslash
Archen
Archeops
Electrike
Manectric
Vullaby
Mandibuzz
Petilil
Lilligant
Shieldon
Bastiodon
UB: Assembly
Pheromosa
Celesteela
With fans knowing which Pokemon will be exclusive to each version of the game, they can now decide which Ultra game to pick up on Nov. 17. That's actually a pretty massive day for game launches in general, so good luck controlling your purchase impulse. Along with the new Pokemon games, that's the same day you'll be able to get Star Wars Battlefront 2, Skyrim VR, Skyrim for Switch and The Sims 4. And that's just seven days after another massive week including games like Need for Speed Payback, Mario Party: The Top 100 and DOOM on the Switch. Oh, and L.A. Noire for Switch launches in the middle of those two weeks. So good luck!
Staff Writer for CinemaBlend.
Your Daily Blend of Entertainment News
Thank you for signing up to CinemaBlend. You will receive a verification email shortly.
There was a problem. Please refresh the page and try again.