Heroes Of The Storm Adds The Lost Vikings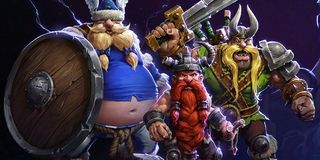 Heroes of the Storm's latest hero actually three characters in one. Players will be able to lead the Lost Vikings - Olaf, Baleog, and Erik - into battle today thanks to the latest patch.
Each Viking has slightly different capabilities. Baleog deals splash damage to enemies behind his current target. Olaf has high, regenerating Health and can charge enemies to slow them. Erik has a wider attack range than his companions and also moves quicker.
You can move and attack separately with the Lost Vikings by pressing the hot keys 1-3. The 4 key allows you to control all three at once. The three can be killed individually and have separate respawn timers.
The Lost Vikings' abilities affect all three at once. Spin To Win! (Q) deals damage in the area around each character. Jump! (W) makes them invulnerable and lets them hop over units. Norse Force! gives them a shield that varies in strength based on how many Vikings are alive.
Their ultimate ability, Play Again!, revives all slain Vikings and teleports them to whichever character cast it. The more popular option, though, is bound to be Longboat Raid! When this ability is cast, the Lost Vikings leap into a boat together and slowly move across the battlefield. The boat will barrage any nearby enemies with its onboard weapons.
You can permanently unlock the Lost Vikings by spending $10 or 15,000 Gold. Alternately, you can wait until they're part of the rotating set of free characters. Blizzard's also selling a $7.50 alternate skin, Pajama Party, that dresses the Vikings in sleepwear.
The Lost Vikings are the first characters outside of the Diablo, StarCraft, and Warcraft franchises added to Heroes of the Storm. Blizzard said in the past that they'll be adding characters from their upcoming multiplayer shooter Overwatch in the future as well.
Today's patch also rebalances many other characters, fixes bugs, and change the penalties for leaving Hero League and Quick Match games before they end. You can find the full patch notes here.
Heroes of the Storm entered closed beta in January. You can guarantee a spot in the test by purchasing a Founder's Pack, though you probably shouldn't. You're better off trying your luck at beta key giveaways or opting into the test through your Battle.net account and waiting for Blizzard to send you an invite. When you get into the test, check out our newbie guide for some helpful tips.
Staff Writer at CinemaBlend.
Your Daily Blend of Entertainment News
Thank you for signing up to CinemaBlend. You will receive a verification email shortly.
There was a problem. Please refresh the page and try again.