How Many People Are Actually Playing Sea Of Thieves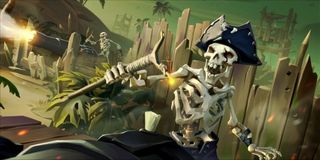 (Image credit: Microsoft)
Rare's Sea of Thieves for Windows 10 and Xbox One appears to have gotten off to a strong start on both platforms after recently launching. The game features open-sea pirating exploits with other players, and it appears to have won over plenty of gamers looking for a good time on a big boat because Sea of Thieves is the fastest selling new IP for the Xbox this gen.
According to GamesIndustry.biz, Sea of Thieves accumulated more than a million players during launch day, and 2 million players by March 27th the following week. The article also notes that this does not include gamers who are currently subscribed to the Xbox Game Pass.
Speaking with GamesIndustry.biz, general manager of games marketing, Aaron Greenberg, explained to the outlet that the total numbers do not include the amount of copies that have been downloaded and played from those subscribed to the Xbox Game Pass.
Microsoft recently changed up the policy to include brand new first-party titles in the Xbox Game Pass offerings. So, now, when big first-party games launch they are available day and date at retail, from the Xbox Store, and for those subscribed to the Xbox Game Pass. The Pass allows gamers to download and play any of the available games in the library for a flat monthly fee. You can play any number of games throughout the month to your heart's content.
However, we don't know exactly how many people are subscribed to the Xbox Game Pass, so even if they were included in the player-count stats we wouldn't be able to know for sure how many that would be exactly.
Of course, this also doesn't address the fact that player counts are not equivalent to sales. The article points out that while having millions of players signing into Sea of Thieves, it doesn't mean that Rare and Microsoft managed to sell millions of copies across Windows 10 and Xbox One platforms.
Player counts can be buffered by the fact that there are multiple accounts accessing a single installation of the game, or different players with different Xbox Live accounts logging in and playing on a single copy of the game.
It's similar to games like Overwatch and PlayerUnknown's Battlegrounds having tens of millions of players, but not necessarily having sold that many copies. Some of the player counts are boosted through betas, free weekends, promotions, account sharing, platform sharing, and even cyber cafes.
Of course, this still doesn't detract from the fact that Microsoft and Rare managed to reach millions of players in a matter of weeks with a brand new IP like Sea of Thieves.
Typically, getting a new IP off the ground is no easy task, as evident with the fact that while Sony may have a beefy offering of original properties for PlayStation devices, it was only really Bloodborne and Horizon: Zero Dawn that have shined most on the PS4 throughout eighth gen. If Microsoft can turn Sea of Thieves into a big success for the Xbox brand, it could help a lot in terms of long-term library building, which is something Microsoft hasn't been committed to at all this generation.
Your Daily Blend of Entertainment News
Staff Writer at CinemaBlend.