What Comes With Rainbow Six Siege's Update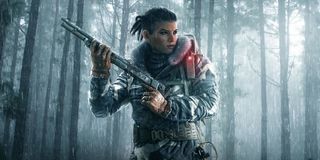 (Image credit: Ubisoft)
Some games reach a point in their lifespan where they just stop receiving meaningful updates. The game usually hits its zenith at some point after its release, and from then on gamers just accept its fate that it's now old news and something newer and better is just around the corner or already available. In the case of Ubisoft's Rainbow Six: Siege that hasn't happened yet. The game continues to grow and continues to expand with each new update, some adding wildly unique gameplay content to the offerings while others continue to flesh out the ever-expanding roster of Operators. With the latest DLC update having gone live, you can now find out exactly what you get in the newly released expansion pack.
Gamespot has a complete list of all the new features present in the new update, called Operation Grim Sky. The Season 3 content for the third-year of updates for Rainbow Six: Siege comes with two brand new Operators named Maverick and Clash. Maverick comes with a blowtorch that can burn through walls and other enemy fortifications, while Clash comes with an electric shield barrier that allows her to absorb incoming projectile fire without taking damage.
Maverick, however, ended up undergoing some nerfs during the closed test sessions after players reported that his blowtorch skills were cheating. The complaints centered around how his torch skills were too fast and that he could burn through walls too easily and quickly without enemies even knowing what was going on. So Ubisoft decided to slowdown the torching burn-rate as well as raise the volume a little bit so other players would at least have some hint as to where he was, which balanced out his skillset.
Clash, on the other hand, is designed as a defender. The new Operator in Rainbow Six: Siege is designed to help safeguard an area while also being able to roll out crowd control in the form of an electric taser. Technically, both characters can be used together to do maximum damage, using Maverick to cut a hole through an enemy fortification, and then use Clash to tank the damage while the rest of the team breaches through the hole. In addition to the two new Operators there's also the addition of four new weapon skins based on a U.K., motif. There's also a new outfit for the Canadian Operator Frost, and four new skins for her weapons.
There's a reworked map in the game in the form of the Hereford Base, with a much larger expansion to the overall map so that there are more ins and outs, and additional destruction points featured throughout the interior. The Consulate also underwent a few changes as well, adding a few more cover points and extended areas to get into the building. And last but not least is the new two-step verification requirement for any ranked match for the PC version of Rainbow Six: Siege. This is to limit the possibility of hacks, which is common in competitive FPS games like Call of Duty and Counter-Strike: Global Offensive.
Additional tweaks and balances have also been made to most of the Operators to ensure that Rainbow Six: Siege stays fair. The new DLC is available right now for those who purchased the season pass or who plan on picking it up piecemeal.
Your Daily Blend of Entertainment News
Staff Writer at CinemaBlend.