The Original Legend Of Zelda Just Got A Brand New Version On Nintendo Switch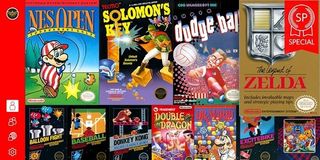 The Nintendo Switch Online library of classic NES games grew by four today, including three previously announced games and the surprise addition of a new version of the original The Legend of Zelda. If you've been having trouble working your way through this classic adventure game, the "Special Save Data" version should provide a solid leg up.
Playing this latest version of The Legend of Zelda is kind of like playing with a cheat code back in the day. You'll notice it on your Switch Online NES library screen because it's distinguished from the original version of the game by a big red ribbon that says "Special." So, what makes it so special?
According to an announcement from Nintendo, this version of Zelda allows players to start the game with "a ton of rupees and items." The rupees will allow the player to purchase more gear more easily while exploring the map, while the items include the upgraded White Sword, Magical Shield, Blue Ring and Power Bracelet. These items make it easier to tackle the game's baddies, as well as make it so that Link takes a lot less damage from incoming attacks. If you've been finding The Legend of Zelda a bit too difficult, or you just want to waltz through the game like a BAMF, this is the way to go.
What's cool about this addition to the NES lineup is that it doesn't take anything away from the classic game. The original version is still there for purists, while the new "Special" version introduces a fun new way to tackle a 30-year-old classic. According to Nintendo, this is only the first of several planned Special editions of NES titles. More will be made available in the future, all "offering fun new entry points into fan-favorite games." It'll be interesting to see how Nintendo chooses to mod other classics, and which games make the cut.
Today's update brings the total number of NES classics up to 24 on the Switch, with three more games getting added in November and another three in December. There's no word on whether or not three a month will be the norm but, for the rest of 2018, that's what you have to look forward to. Thanks to this new take on Zelda, I can't help but wonder if folks can actually expect four a month, perhaps with a Special version of a previous entry thrown into each month's mix.
There are a decent number of games to choose from just from the initial lineup. Dr. Mario seems like an obvious choice to introduce some new gameplay/options, as do any of the OG Mario Bros. games. Balloon Fight and Ice Climber also seem like games just itching to have a few new wrinkles thrown into the mix.
If you have any ideas about how Nintendo can make a classic NES game "Special," feel free to share your thoughts in the comments below.
Staff Writer for CinemaBlend.
Your Daily Blend of Entertainment News
Thank you for signing up to CinemaBlend. You will receive a verification email shortly.
There was a problem. Please refresh the page and try again.