Ace Attorney 5 Screenshots Show Finger Pointing, Destruction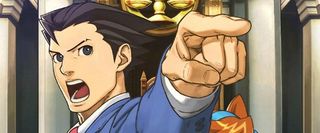 Capcom has sent out the first screenshots for Ace Attorney 5. The newly announced 3DS installment of the legal adventure series will start off with a violent case that endangers the beloved courthouse.
The screenshots (via AGB) provide a few glimpses at this case. Someone sets a bomb off at the court that completely tears it apart. The trial of the supposed bomber is held at a new and improved courthouse, perhaps the setting for all of the game's cases.
The accused in the bombing trial is a teenage girl. Phoenix Wright and his mysterious companion set out to defend her. They'll no doubt find some unusual way to prove her innocence.
Ace 5 was revealed earlier today by a Japanese gaming mag. They also announced that a playable demo will be available at Tokyo Game Show.
Image 1 of 3
Your Daily Blend of Entertainment News
Staff Writer at CinemaBlend.