Apparently PlayStation Users Visit Pornhub More Than Xbox Users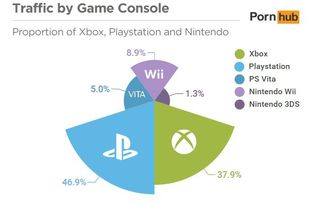 The folks over at Pornhub have released their annual statistics, including information on which video game consoles are most frequently used to visit their website. The PlayStation brand holds a strong lead this year, with all of Sony's platforms accounting for about 52 percent of the total.
The "Pornhub 2015 Year in Review" breakdown has now been posted online, and it's an obscenely detailed breakdown covering just about every possible stat you can think of for the site. While most folks likely drop by for, you know, porn, it's important to remember that Pornhub is still a business and, as such, they can put together a mean presentation. And in case you're worried, that link was totally safe for work when I visited, except for the web address and all. The data is as follows:
Playstation: 46.9%
Xbox: 37.9%
Nintendo Wii: 8.9%
Playstation Vita: 5.0%
Nintendo 3DS: 1.3%
Amidst breakdowns of things like which countries visit the site most, traffic trends, time spent on the site, and more, Pornhub has provided an analysis of which gaming platforms are most frequently utilized to visit Pornhub.com. Pretty much anything with a web browser can connect to the site, after all, so it makes sense that excited teens would oggle some naughty videos on their 3DS when the parents aren't looking.
According to the handy pie chart, PlayStation (which we assume means PlayStation 4 and PlayStation 3, since the Vita has its own tab) accounts for 46.9 percent of the total visits to Pornhub from game consoles. That's up a whopping 17.5 percent from last year, which is probably due to the fact that the PlayStation 4 has a commanding lead in the market these days. Speaking of the Vita, it accounts for 5 percent of total visits, down a single percent from last year.
The Xbox brand had a respectable 37.9 percent of Pornhub visitors on gaming machines, though down 17.2 percent from last year. The Wii is somehow on the rise despite being an older console, up 7.7 percent in 2015 to claim an 8.9 percent total of the chart. And while the Wii U is suspiciously missing from the chart (unless it is held under the "Wii" umbrella like with PlayStation and Microsoft), the 3DS is up a big 18.9 percent from 2014, though only commanding 1.3 percent of the chart.
Here's a bit of a breakdown coming directly from the source:
In case you're wondering why they would mention Fallout 4, it's because the game has already come up twice in relation to Pornhub news this year and, no, it has nothing to do with a nude mod for the game. When Bethesda first showed off Fallout 4 behind closed doors, they did not permit anyone to take video footage of the game in action. Someone broke the rules, of course, and a shoddy video made its way online. When the traffic to said video crashed servers aplenty, the clip was then uploaded to Pornhub, where the traffic could be more easily handled. Pornhub also announced earlier this year that, curiously enough, the day Fallout 4 hit store shelves, the site saw a noticeable drop in usage.
Your Daily Blend of Entertainment News
Staff Writer for CinemaBlend.