This Dark Souls III Competition Sounds Just As Dangerous As The Game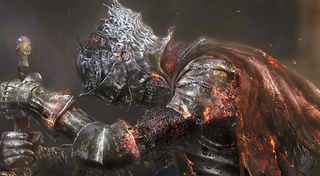 From Software and Bandai Namco have a little competition going on where gamers have an opportunity to win a free PS4 and a free copy of Dark Souls III: Prestige Edition. The competition involves eating spicy chickens as fast as you can.
GamesRadar is reporting that all you have to do is attend a participating MEATLiquor restaurant in the United Kingdom between April 4th and April 29th and participate in the chicken-wing eating contest. If you manage to eat the spicy chicken wings faster than everyone else you'll be able to walk out with a free copy of Dark Souls III and a PlayStation 4 home console. That's a pretty rad first-prize for eating chicken wings.
Even more than that, the grand prize winner who manages to have the fastest time out of all the MEATLiquor restaurants will be able to bag themselves a PS4 and a copy of Dark Souls III: Prestige Edition.
The crazy part about it is that while this sounds like an easy challenge to tackle, the chicken wings aren't just your average chicken wings... in fact they're very special chicken wings. According to the article the wings are so hot that the chef has to wear protective gloves and goggles when working with the ingredients to make them. In addition to this, contestants wanting to win a free PS4 and Dark Souls III copy will need to a sign a waiver and wear protective gloves when handling the wings. It kind of makes me question if chicken wings that hot are even safe to eat?
The challenge is just as ridiculous as you would expect from a boss fight in Dark Souls III. And speaking of the game, the mechanics have been much improved to better reflect the changing times and improved hardware capabilities of the PS4 and Xbox One. Players now have more parry options, guarding options and weapon mixtures that they can take into battle against the forces of evil.
However, all those new weapon options, defensive measures and Weapon Art techniques are balanced out with far more challenging AI opponents who are a lot more aggressive than in the previous games. The enemies are faster, have more attacks and offer more tactical options in how the players engage with the enemies.
There are some crazy boss fights as well that are completely off the wall, almost as off the wall as the spicy chicken wings in the Dark Souls III contest prepped to take place in the U.K., shortly.
From Software has been really careful, however, avoiding any possibility of letting loose any sort of leaks or story-related content. A lot of the videos and promotional videos for the game have centered around the game's early combat segments and a lot of the throwaway mobs in the game.
Dark Souls III is prepping for release on March 24th in Japan and April 12 for the rest of the world. So if you manage to win any of the contests at the MEATLiquor restaurants then you'll be able to get just a little earlier or around the same time as the game's standard release.
Your Daily Blend of Entertainment News
Staff Writer at CinemaBlend.