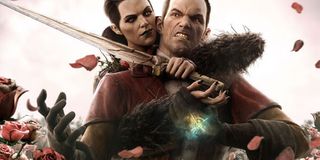 Today Arkane Studios released Patch 1.4 for their assassination game Dishonored. This update will pave the way for The Brigmore Witches, the upcoming story-based DLC.
Brigmore Witches continues the storyline of previously released DLC Knife of Dunwall. Players once again take on the role of Daud, who served as one of the villains of the main campaign. Daud must track down Delilah, the leader of a coven of witches. He'll also have to contend with gangs known as the Dead Eels and Hatters who are currently battling for control of Dunwall's streets. The episode will end with Daud confronting Dishonored hero Corvo Attano. Daud's story will be wrapped up with a neat bow, for better or worse.
If you completed Knife of Dunwall, you'll be able to import your save file to Brigmore. This will allow you to carry over any upgrades you made to your abilities or equipment. Your Chaos level and decisions from Knife will be reflected in Brigmore as well.
In addition to prepping the game for Brigmore Witches, Patch 1.4 also implements a number of bug fixes. Some of these pertain specifically to the Knife of Dunwall content. For example, NPC's thrown off ledges weren't being counted as kills. Furthermore, entering Daud's base occasionally caused crashes. Both problems and more should be zapped now, though.
The overall game should be a bit more stable as well. Loading saves from previous patches should no longer crash the game. Doors will no longer stay mysteriously shut. Here's the full list of fixes, courtesy of publisher Bethesda:
Bug Fixes (The Knife Of Dunwall)
Fixed issue where music box would stay attached to the NPC when choking and then carrying a music box Overseer.
Fixed issue where thrown NPCs killed by falling damage were not counted towards kill stats.
Fixed issue where sound effects for the Saw Butcher were muted after a save/load.
Fixed issue where sound was muffled after a save/load in Timsch Basement.
Fixed issue where music from music box Overseer persisted after death.
Fixed issue where NPCs didn't react to chokedust while moving in its explosion radius.
Fixed a graphical glitch on Favor tutorial screen.
Fixed a rare crash when loading Daud's Base (PC).
Fixed a minor issue allowing users to make notes disappear when pressing key combinations (PC).
Bug Fixes (Dishonored)
[[ lifixed ]] <="" allowed="" an="" bodies.="" bolts="" dead="" exploit="" instead="" li="" of="" on="" one="" players="" recover="" that="" to="" two="">
[[ lifixed ]] Fixed an issue where Unnerving Target & Quick Dodge bonecharms were ineffective.
[[ lifixed ]]
[[ lifixed ]] Fixed a crash when loading saves made on earlier title updates.
[[ lifixed ]]
[[ lifixed ]] Fixed an issue where sometimes activating a door wouldn't display an interaction dialog nor open the door.
[[ lifixed ]]
[[ lifixed ]] Fixed minor localization issues (ESA) (PC).
[[ lifixed ]]
Arkane will release Brigmore Witches on August 13th through Xbox Live, North American PSN and Steam. The European PSN launch will follow the next day. Regardless of what platform you're playing on, the content will cost you $9.99.
Your Daily Blend of Entertainment News
Staff Writer at CinemaBlend.