Dragon Age 2 Expansion Cancelled, Team Focusing On Next Game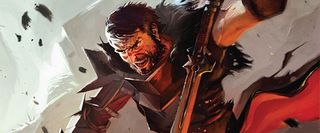 BioWare will not be making any additional downloadable content for Dragon Age 2. Executive producer Mark Darrah confirmed today that the development team is now focused on the "next phase" of the medieval fantasy series.
"The latest and greatest patch for DAII is out, addressing a number of the issues you have helped us track on our tech support forums," said Darrah on the BioWare Social Network. "Thank you again to those of you who took the time to submit feedback in order to help us make the game better. And finally, while we will still be keeping an eye out for any issues that might crop up in DAII and supporting the community should any emergencies should arise, we're moving the entire team's focus to the next phase of Dragon Age's future.
After DA2's launch, BioWare released two DLC packs: Legacy and Mark of the Assassin. Darrah revealed that they also intended to release an expansion pack but never got around to it.
"We did have plans for an expansion pack to DA2 but, other DA opportunities came up. There were even shirts! It was called Exalted March," tweeted Darrah.
A report published in November suggested that the next Dragon Age will have multiplayer arenas. This game might either be Dragon Age 3 or a smaller downloadable game. BioWare has yet to confirm what the next DA project will be.
"You've most certainly heard the rumors floating around, and unfortunately I can't really comment on them," Darrah said. "However, what I can say is that we've been thinking a lot about Dragon Age – what it means, and where it could go. This past year, we've spent a lot of time both going back to the "BioWare vault" of games and re-examining them, and looking at some new possibilities that today's industry allows."
Your Daily Blend of Entertainment News
Staff Writer at CinemaBlend.