Five Nights At Freddy's 4 Trailer Brings The Horror To Your House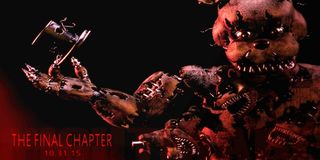 Five Nights at Freddy's has been terrifying gamers for some time now, ever since we spent out first night on the job as a security guard for Freddy Fazbear's Pizza. And it looks like things are about to get a lot more serious with Five Nights at Freddy's 4, if the official trailer is any indication.
The video, posted on Cawthon's official YouTube channel, showcases a side of the game that we might not used to be seeing. It's scary alright, but where is all this taking place? Looks like in, what could be, the player's home. Yikes. When you start seeing animatronic monstrosities showing up at your home, you might consider seeking employment elsewhere, but maybe that's just me.
Scott Cawthon is known for strange antics and pulling bizarre narrative twists in the Five Nights at Freddy's series, and this one is definitely a turn to pay attention to, amplifying the atmospheric horror even further. Previously, still images with different phrases on them, such as "Was it me?" in reference to some of the creepy story events from the game had fans working to guess what they might be in for in the game's "final chapter."
Plus, Five Nights at Freddy's news has been coming right on out of the woodwork over the past couple of months. Everyone's eager to see where the ridiculously popular jump scare adventure game will end up. Previously Cawthon had even posted an image where he showcased a purple hat and bow tie on the floor in a dark room...
Cryptic? No, it seemed very deliberate, as do most of the clues the creator has been sharing online. Fans have been scrambling to decipher them, writing up and storing fan theories at Reddit and across the internet to build up the lore surrounding the series. It's ridiculously popular, and fun to follow along with, especially when people come up with special fan creations.
Five Nights at Freddy's 4 will be released on August 8th, where it was previously reported to be turning loose on gamers on October 31st. Cawthon has commented that the date was pushed up to August 8th to mark the series' first anniversary, but will be releasing additional content for the game come Halloween. We've got a little ways to wait still, but what are your Five Nights at Freddy's 4 theories? What do you think about Nightmare Chica? What's going to go on with the "Bite of '87" event? Only time will tell...and the animatronics, of course.
Your Daily Blend of Entertainment News