Get A Sneak Peek At Part 3 Jason From Friday The 13th: The Game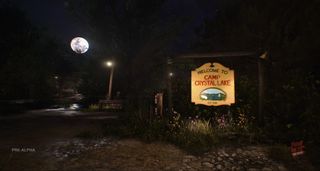 If you remember the 80's and 90's when slasher movies like Friday The 13th, Nightmare On Elm Street, Scream and Halloween were popular, then you remember a golden age in horror cinema, a time that really took hold of a different kind of horror, the fear that the story could actually happen. And even though horror cinema has changed since then, movies like Friday The 13th still have an effect. That's why Randy Greenback of Gun Media received resounding success after launching the Kickstarter for Friday The 13th: The Game.
After being successfully funded with $823,704, more than $100,000 over its original goal, Friday The 13th: The Game started to become a reality. The game will be a multiplayer, third-person horror that will give players the choice to play as either a teen counselor or as Jason Voorhees. As a counselor, you and your teammates must work together to survive Jason at the all-too-familiar Camp Crystal Lake. But if you are playing as Jason, you have to do your best to track down your prey and kill them off, just like in the movies. And not only do you get to play as Jason, but you can as different Jasons from different films. In this case, according to iHorror, Gun Media has given us a sneak peek at Part 3 Jason.
In Friday The 13th: Part 3, the story follows a group of friends staying at a vacation house on Crystal Lake. Jason's face, as seen in the pic below, takes on the typical disfigured look fans of the film know all too well.
The horror site, iHorror, reports that most of Jason's looks will be included in the game, but we don't know exactly which ones yet. I'm really hoping they leave out the futuristic, space-themed Jason X, but I wouldn't mind the zombie-like Jason from Friday The 13th: Part 8. Because I enjoy slasher movies far too much, I look forward to giving this game a try and seeing how it matches the the legacy of horror the films have left behind.
Friday The 13th: The Game will be releasing this fall on Steam, PS4 and Xbox One and you can stay updated on its development at the official website.
Your Daily Blend of Entertainment News