Kingdoms Of Amalur: Reckoning Kicks Off October PS Plus Offerings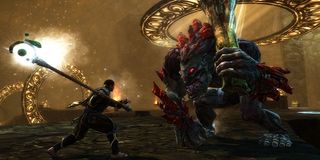 This week, PlayStation Plus offers a whole freaking RPG to the Instant Game Collection in the form of Kingdoms of Amalur: Reckoning, as well as a day one discount on the remake of Flashback HD and additional savings on a handful of other titles.
As we announced last week, the inaugural game from ill-fated 38 Studios will be added to the roster of free games for PlayStation Plus subscribers, offering dozens of hours of gameplay in an action-heavy RPG that isn't afraid to include a little color in its pallet.
As most of you probably know by now, 38 Studios completely crumbled due to financial troubles shortly after the release of the team's first title, Kingdoms of Amalur: Reckoning. It's a real shame, too, as Amalur was a very competent game that was praised by critics and fans alike. It even sold well, especially for a new IP in such a tricky genre as roleplaying games, but mismanagement of the company meant that 38 Studios was on its way out the door before it even had a chance to get settled in.
There's still (vague) hope for a sequel, as the Amalur license will be auctioned off next month, but chances are good that, if a follow-up does happen, it'll be coming from a brand new team and a brand new batch of creative minds.
But why fret over the details when you're getting the original game free of charge starting today in PlayStation Plus? With R.A. Salvatore working on the story, Todd McFarlane heading up the art and designer Ken Rolston doing what he does best, you can rest assured knowing that Kingdoms of Amalur: Reckoning is well worth a look-see, and you'll be able to do exactly that later today as the PlayStation Network update goes live.
Also highlighted in this week's Plus update is a day one discount for Flashback HD, marked down from $7.99 to $9.99. Keep in mind that this is a remake of a game that's 20 years old at this point and, while the graphics have received a major overhaul, virtually everything else is identical to the original release. This isn't said to dissuade anyone from buying the game. But in an age where some "HD remakes" modernize a game in every conceivable way, Flashback HD is all about maintaining the original gameplay and simply slapping on a fresh coat of paint.
And Flashback isn't the only game getting a discount this week, either. A handful of games, as well as their bundles and souped up editions are being discounted on PSN this week, including Wheel of Fortune and Jeopardy, MX vs. ATV: Alive, Darksiders 2 and Red Faction: Armageddon. For a full list of the games and a look at those lower prices, check out the official announcement.
Staff Writer for CinemaBlend.
Your Daily Blend of Entertainment News
Thank you for signing up to CinemaBlend. You will receive a verification email shortly.
There was a problem. Please refresh the page and try again.