Liege, Kickstarted JRPG Could Appear On Wii U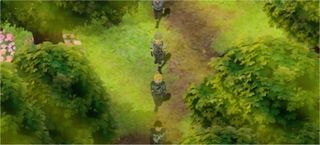 Developers Coda Games has recently had their independently designed JRPG, Liege, officially Kickstarted. The game is also looking for additional support via Steam's Greenlight. However, Coda Games isn't content with leaving their game on the PC platform, they would love to explore a potential release on the Wii U.
According to Nintendo Everything, things could be looking up for the team, as Nintendo Everything got in contact with the head honcho of Coda Games and they write...
This is great news for fans of Golden Era role-playing games, as they might be able to enjoy all the awesomeness of a throwback game to the old-school JRPG style of game design.
For those who don't know, Nintendo has been going well out of their way to change the way they've been acquiring games for their platform – specifically the Wii U.
The company has gone on ahead and ventured to secure a lot of support for their system by letting loose a number of development tools for the Wii U to registered developers for free. Nintendo has also been sending out free Unity Pro licenses to help developers make use of the game engine to help get their projects off the ground.
In this case, Liege is already up and running and the team just needs some additional support to get their game onto Nintendo's console. Hopefully the quality of the game is up to par and maybe with some proper curating Nintendo will see if Coda Games is fit to become a registered developer – if so they wouldn't need to pay anything extra to get the necessary tools in order to bring their game to the Big 'N's console.
If you're curious what the game is like and whether or not it deserves to be a part of the Nintendo line-up of indie titles, feel free to check out some of the gameplay and concepts of Liege below. Additionally, you can help get the game further recognized by giving an upvote or two to the project via Steam's Greenlight.
Image 1 of 3
Image 2 of 3
Image 3 of 3
Staff Writer at CinemaBlend.
Your Daily Blend of Entertainment News
Thank you for signing up to CinemaBlend. You will receive a verification email shortly.
There was a problem. Please refresh the page and try again.