Life Is Strange Creators Launch New Photography Scholarship Competition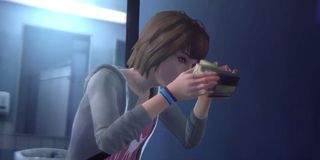 Not long ago, Square Enix had announced an anti-bullying campaign inspired by Life Is Strange and the bullying themes that were present in the game. Now, Square Enix and developer, Dontnod Entertainment, have launched a $10,000 photography scholarship competition.
According to the contest website, Dontnod Entertainment asks that contestants submit a photo of someone they value as an everyday hero, photos of everyday people doing extraordinary things. The top three finalists whose photos are chosen will not only win the $10,000 scholarship fund to help further their photography education, but also will get their photo printed, framed and signed by the Dontnod Entertainment team and featured on Square Enix social media channels.
Does this all sound vaguely familiar? That's because the photography contest Max was entering in Life Is Strange was called the Everyday Heroes contest where contestants were supposed to enter a photo of their everyday hero. Only the winner of the real-life competition doesn't get to fly to San Francisco to see their photo showcased in a high-end art show.
It's great to see Square Enix and Dontnod Entertainment using elements of Life Is Strange gameplay to bring to life meaningful campaigns that could make a positive impact. The anti-bullying campaign delivered a great message for those to step out of the dark to share their story. And now, the Everyday Heroes photography contest is rewarding young, artistic talent while putting the spotlight on real people who have made a real difference in someone's life, one way or another: an everyday hero. As expected, Life Is Strange fans are excited to see one of the game's elements come to life.
If you would like the opportunity to be considered for the contest, you can go to the contest website. Featured entries will be selected on a daily basis and will be shown on the website. Submissions will be accepted until 11:59PM PST, February 16.