Pure Chess Gets Spooky With Halloween DLC Pack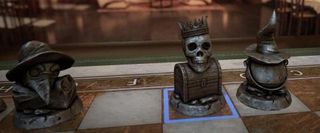 Quite a few players have rediscovered the appeal of the OG turn-based strategy game thanks to VooFoo Studios' Pure Chess on the PlayStation Network. With Halloween just around the corner, those deep thinkers will now be able to enjoy the classic board game with a spooky new theme thanks to the upcoming Halloween Game Pack.
I going to go out on a limb here and assume that I don't need to go too far into the particulars as to what a game called Pure Chess has to offer. Available for download on PSN, the game features multiple game modes, tutorials and difficulty setting, perfect for tailoring your game of chess to your individual skill level. The entire thing is wrapped in some pretty snazzy HD graphics, too.
While Pure Chess already offers a bunch of different board and location options for players to choose from, no chess set would be complete without the ability to really get into the holiday spirit with a set of special Halloween pieces. According to VooFoo, the Halloween Game Pack is "inspired by fearsome fright night icons, and features such ghoulish characters as a witches cauldron, a hand rising from the grave, a hooded figure and a grinning skull set atop a treasure chest.
For those who already own the game, the Halloween set will be available for $2.49 as a DLC add-on. If you've missed the boat up to this point, however, the Halloween game pack will be included free of charge to new purchasers of the game proper as part of the Halloween Treat Bundle. The special promotion will run from Oct. 23 to Nov. 7, so you'll want to Pure Chess soon if you want to get your free Halloween content.
Pure Chess is available now for the PlayStation 3 and PlayStation Vita. For more info on the game, check out the official website.
Staff Writer for CinemaBlend.
Your Daily Blend of Entertainment News
Thank you for signing up to CinemaBlend. You will receive a verification email shortly.
There was a problem. Please refresh the page and try again.