SKTelecom T1 Wins 2015 League Of Legends World Championship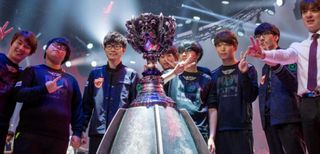 SKTelecom T1 defeated fellow Korean team KOO Tigers on Saturday to win the 2015 World Championship for League of Legends. SKT's victory gives them their second world championship in three years.
The victory probably doesn't surprise many viewers. SKT has been on a roll throughout Worlds. They were the only team to emerge from the Groups Stage without a loss. In the Knockout stage, they shut out ahq e-Sports Club and Origen on their way to the finals.
KOO Tigers, to their credit, was the only team to hand SKT a loss during Worlds. During Game 3 of the best-of-five series, KOO's jungler Hojin racked up several early kills and used that early lead to help snowball the game. KOO aced SKT at a teamfight around the thirty-minute mark and then took Baron to put the game out of reach.
Unfortunately KOO couldn't repeat that success. SKT bounced back in Game 4 with dominating performances from Bengi and midlaner Faker. They held KOO to only a single kill in a 34-minute rout to win the World Championship.
This is the second world championship for SKT veterans Faker and Bengi. They're the only two players in LoL to accomplish the feat. Bengi told LOLesports that he's glad he stuck with SKT following a rough 2014:
MaRin was named the Worlds 2015 MVP thanks to his superb play in top lane throughout the tournament. For the Finals, he went back to his old favorite character Rumble for three of the four games. Rumble's strong area-of-effect damage helped SKT win the teamfights crucial to victory.
As the World Champions, SKT will take home a grand prize of $1 million. If past seasons are any indication, the team will also be immortalized as special character skins as well.
While Season 5's professional play is now over, players throughout the world are still slugging it out in ranked matches. The stakes are obviously a lot lower for amateur players. They're just trying to hit as high of a rank as possible so they can earn cosmetic rewards for their account like a loading screen border or the Victorious Sivir skin. Season 5 will officially wrap up on November 11th.
Riot Games has already started talking about Season 6. This week they announced a bunch of surprising changes they'll implement in the preseason to shake up the current balance of the game.
Staff Writer at CinemaBlend.
Your Daily Blend of Entertainment News
Thank you for signing up to CinemaBlend. You will receive a verification email shortly.
There was a problem. Please refresh the page and try again.