WWE 2K15's System Requirements Announced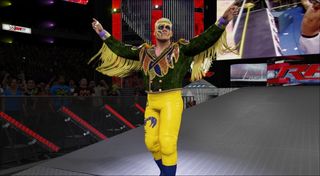 PC gamers have been waiting for more than a decade for a new WWE title and now 2K Games and the World Wrestling Entertainment company are making it happen with WWE 2K15. They recently put up the page on Steam to showcase the game's system requirements and gameplay details.
Right now WWE 2K15 is available for pre-purchase up until April 28th over on the Steam page where they detail what your minimum system requirements and recommended system requirements should be to run the game properly.
Here are the basic minimum requirements for the game:
OS: 64-bit: Windows Vista SP2
Processor: Core 2 Duo E6600, AMD Athlon 64 X2 5400+
Memory: 4 GB RAM
Graphics: NVIDIA GeForce GTX 450 or AMD Radeon HD 5770, 1GB GDDR (DirectX11 compatible)
DirectX: Version 11
Network: Broadband Internet connection
Hard Drive: 22 GB available space
Sound Card: DirectX 9.0c compatible sound card
Those are fairly reasonable stats. Most average desktops and laptops have those basic specs, I mean you can pick up something for like $200 from some places with 4GB of RAM and a basic dual-core CPU.
22GB of hard drive space is nothing special and the only thing that might set some gamers behind is the GPU, which requires 1GB of VRAM and needs to be a GTX 450 or higher. Even on the low end of the scale there are a lot of casual PC gamers who may be left out, but anyone who purchased a PC within the last two years should be able to run the game with the minimum specs.
The recommended specs take a slightly higher bump up the hardware pay grade, as you can see below:
OS: 64-bit: Windows 7 / Windows 8
Processor: Intel Core i5-3550, 3.30 GHz
Memory: 8 GB RAM
Graphics: nVidia GeForce GTX 570 or AMD Radeon HD 6970
DirectX: Version 11
Network: Broadband Internet connection
Hard Drive: 22 GB available space
Sound Card: DirectX 9.0c compatible sound card
Additional Notes: At least 2 GB DDR Video Memory
A GTX 570 and an Radeon HD 6970? That almost makes me think the game pushes some serious polygons on the highest settings.
2K Games and WWE have yet to release any actual gameplay footage of WWE 2K15 for PC, but the Steam page is ripe with new screenshots for the game running on personal computers.
We also learn what some of the features will be for the game when it comes time to launch, including single-player, multiplayer, co-op, local multiplayer, full controller support, Steam leaderboards and even Steam Achievements.
What's more is that PC gamers will get all of the previously released DLC for the game as part of the core package. You won't have to worry about buying multiple packs just to get the complete game, which is something I usually hate in games most times.
Some of the DLC packs includes the WWE 2K15 Showcase, the NXT Arrival, the WCW pack, the Hulk Hogan pack and the Sting pack.
WWE 2K15 was pretty big for the home consoles when it released last fall. It's not really what I would consider one of the greats in the history of simulated wrestling titles, but a lot of PC gamers are just happy that WWE is coming back to PC in an official capacity and if WWE 2K15 opens the door for more wrestling games in the future, then I think most wrestling fans will be happy.
You can learn more about 2K Games' first WWE game for PC by paying a visit to the official Steam store page.
Your Daily Blend of Entertainment News
Staff Writer at CinemaBlend.
Your Daily Blend of Entertainment News
Thank you for signing up to CinemaBlend. You will receive a verification email shortly.
There was a problem. Please refresh the page and try again.