Wii U Is A Powerhouse With HD Capabilities, Says Retro Studios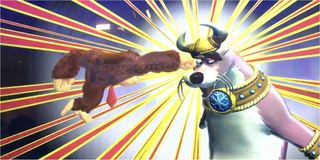 It looks like the tide may be turning, with news about the Wii U's potential memory bandwidth being higher than the Xbox One and some rocking games due out this year, Nintendo's latest console is finally starting to break away from the doom and gloom shell, and step out into the light of auspicious and positive perception.
The latest developer to actually talk up the powerhouse capabilities of the Wii U is Retro Studios, who admitted that the console packs a lot more under the hood than the media gives it credit for.
Speaking with GameSpot, CEO Michael Kelbaugh spoke positively about the team's experience working on Donkey Kong: Tropical Freeze for the Wii U, stating...
This seems quite the opposite from the Nintendoom articles from other developers claiming that the system is slow and useless, or all the Nintenhate claiming that the Wii U is only equivalent to last-gen hardware, to which that has been proven untrue.
Nevertheless, this at least proves that the Wii U is still in the running, and with a few killer apps to help pick up sales, I think the Wii U will be a formidable competitor in this eighth generation race.
Sadly, we can't look to third party publishers or many high-profile studios to provide any sort of support for the Wii U, as noted by Airtight Games and Square Enix, who felt that if they couldn't do a lazy shovelware port of Murdered: Soul Suspect it wasn't worth doing for the Wii U. Can't blame them for their honesty.
In the same way, though, if companies keep up the cycle of avoiding the Wii U because they can't do lazy ports, then it's not going to get games to help push sales, and if it doesn't get games to help push sales then it's not going to look very lucrative for developers and publishers to do lazy ports. Hence, the cycle never ends.
However, Retro Studios' Michael Kelbaugh admitted to GameSpot that they're not done with the Wii U, and the gaming website suspects that with the company already working a few months into their next project, we could be getting a new Metroid game out of the studio. Kelbaugh stated...
Well, it's good news that the Wii U will at least be getting some new games from trusted developer who understand the value of originality and creativity. I suppose, if you want just the opposite you can stick with all that shovelware that Airtight Games was talking about.
Your Daily Blend of Entertainment News
Staff Writer at CinemaBlend.