Every Wedding Dress Jennifer Lopez Has Worn On Screen
Would you rather wear one 95-pound showstopper dress, or 28 custom gowns you can destroy?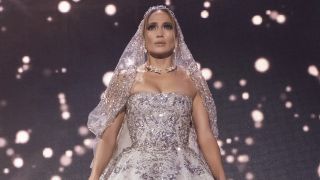 (Image credit: Universal Pictures)
Jennifer Lopez is no stranger to romantic comedies, nor is she a stranger to weddings. I say this with no disrespect! Between tying the knot IRL four times and getting married in eight movies, she's gotten some good practice and, more importantly, worn some fabulous gowns. We saw the beautiful dresses she wore for her wedding with Ben Affleck, one of which was "something borrowed" from one of her movies, but do you remember all of J.Lo's on-screen wedding dresses? I do! Pun totally intended. Read on to see every wedding dress Jennifer Lopez has worn in her movies over the years, from something old to something new.
The Wedding Planner (2001)
While Selena was technically the first movie in which J.Lo played a bride, there was no actual wedding scene in the movie (and thereby no wedding dress), so I've made the executive decision to leave it off this list. This brings us to The Wedding Planner, in which J.Lo plays the titular wedding planner, Mary Fiore, who falls for one of her clients. I feel like that must be breaking some cardinal rule of wedding planning, right?
In an attempt to get over Mr. Right, Mary plans to marry Mr. He'll-Do: a perfectly-nice childhood friend named Massimo whom she ultimately ditches at the altar. While the ceremony was short-lived, the white boatneck dress she wore lives on with its eventual comparisons to Meghan Markle's Givenchy wedding gown. Pam Chilton, the movie's costume designer, told Glamour:
Enough (2002)
Enough is most-certainly not a rom-com, but it starts with the hope of marital bliss when J.Lo's character Slim marries the handsome and wealthy Mitch (played by Billy Campbell). In her wedding to Mitch, Slim wears a simple but beautiful gown with a sweetheart neckline and veil. Unfortunately, this marks the end of the love story and the beginning of the all-too-real thriller.
Monster In Law (2005)
J.Lo may be the bride in Monster In Law, but Jane Fonda steals the show as Viola, who spends the majority of the movie trying to stop Lopez's character Charlie from marrying her son Kevin (played by Michael Vartan). Viola employs intimidation and manipulation tactics to scare Charlie off, even going so far as to wear a white gown with elbow-length gloves to the ceremony – the same sartorial combo Charlie is planning to wear because, duh, she's the bride. Sure, it's hard to upstage a total babe like Jennifer Lopez, but this feels like a particularly unhinged move for even the silliest of rom-coms. Ultimately, though, Charlie and Kevin make it down the aisle for their happy ending – if you consider marrying a grade-A wimp like Kevin a "happy ending," but that's a rant for another day.
El Cantante (2006)
Almost a decade after playing iconic Tejano singer Selena Quintanilla in Selena, and two years after marrying co-star Marc Anthony, Lopez plays another real-life figure in El Cantante. This time, she's Nilda "Puchi" Lavoe, wife of legendary Puerto Rican salsa singer Héctor Lavoe (played by Marc Anthony). The two get married at the start of the movie, with Nilda wearing a 60s-inspired, high-neck white lace gown and a long veil.
Marry Me (2022)
My personal favorite of the bunch because of its sheer grandiosity is the wedding dress from Marry Me. Lopez plays Kat Valdez, an international pop star who is promoting her new single "Marry Me" - how meta! - by marrying her pop star boyfriend Bastian (played by Maluma) on stage at one of her concerts. This plan goes awry when cheating rumors come out right before the ceremony. As she's standing on the stage in this 95-pound metallic gown, heartbroken (and presumably sweaty because that ish is heavy), she decides to marry a random concert-goer from the crowd instead, Charlie (played by Owen Wilson).
The Zuhair Murad dress worn in Marry Me reportedly took five people to transport and an entourage to get J.Lo in and out of – with nine layers of silk taffeta, horsehair and tulle, as well as crystals, silver, ruffles, embroidery and lace. The movie itself is a little lackluster in comparison, but you should stream this Jennifer Lopez rom-com anyway to check out all the awesome fashion.
Shotgun Wedding (2023)
In her second wedding movie in a row, Shotgun Wedding, J.Lo delivers her funniest performance yet with an all-star cast you've certainly seen before (including my other favorite Jennifer, Jennifer Coolidge). Shotgun Wedding is about J.Lo's Darcy and Tom (played by Josh Duhamel) who gather with friends and family for a destination wedding that takes a turn for the worse. When the couple starts to get cold feet because of family drama and Tom being a bit of a "groomzilla," the wedding party gets taken hostage by pirates. While I often feel taken hostage at weddings, this is in a different league. Don't worry, Darcy and Tom still go through with the wedding in the end (as one of our writers Adrienne Jones aptly points out in her thoughts on Shotgun Wedding, "how?!"), though the off-white gown takes a different form after suffering some serious wear-and-tear. In fact, there were 28 versions of the custom Galia Lahav gown made so it "could be modified, ripped and transformed into a uniform suitable for a glam action hero," according to a press release from the bridal brand.
While all of these dresses are timeless and dreamy, I still stand by the showstopper from Marry Me as the winning gown. Do you have a favorite of Jennifer Lopez's movie wedding dresses?
Your Daily Blend of Entertainment News
Senior Audience Development Manager
Audience Development rep and self-proclaimed "Crazy Aunt" for CinemaBlend. Lover of slasher movies and all things girly.