Shotgun Wedding Cast: Where You've Seen The Actors From The New Romantic Comedy
Time to check those RSVPs!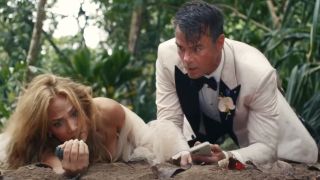 (Image credit: Lionsgate)
Over the years, Jennifer Lopez and Josh Duhamel have both appeared in their fair share of all-time great romantic comedies, yet their paths have never crossed; until now, anyway. Together, the pair of Hollywood stars lead Pitch Perfect and Sisters director Jason Moore's latest addition to the genre with the action-packed rom-com, Shotgun Wedding, which centers on a soon-to-be-married couple whose family members are held hostage at their remote destination wedding.
Those family members kidnapped by a gang of pirates are played by a who's who of talented, and incredibly funny actors and actresses, including one of the godfathers of the stoner comedy genre and the Golden Globe-winning star of HBO's The White Lotus. Here is a breakdown of the main actors who appear in the Shotgun Wedding cast.
Jennifer Lopez (Darcy)
Leading off the Shotgun Wedding cast is Jennifer Lopez, who takes on the role of Darcy, the bride-to-be who has to rise to the occasion and save her family.
No stranger to the rom-com genre, Lopez has appeared in movies like Maid in Manhattan, The Wedding Planner, Monster-in-Law, and Marry Me over the years. Lopez, who is also a successful recording artist, also showed off her multiple talents in the 1997 biographical drama Selena, where she portrayed the late "Queen of Tejano music" in a career-defining performance.
Josh Duhamel
Josh Duhamel takes on the second leading role in the comedy as Darcy's fiancé, Tom, a spot the Las Vegas star took on following the departure of Armie Hammer.
Throughout his career, Duhamel has bounced from action franchises like the Transformers movies to romantic comedies and dramas like Win a Date with Tad Hamiliton! and Life as We Know It, without blinking an eye. He's also given great performances on the small screen, as well, on shows like 11.22.63, Love, Victor, and The Mighty Ducks: Game Changers.
Jennifer Coolidge (Carol)
Jennifer Coolidge appears as Tom's mom, Carol, one of the guests at the destination wedding gone awry.
Coolidge's career has reached new heights in recent years thanks to her dynamic performance on The White Lotus (she was the only main character to appear in both seasons). But, she has long been one of the funniest names in Hollywood with iconic appearances in the American Pie franchise (she's Stiffler's mom), Legally Blonde, and cult classic comedies from Christopher Guest like Best in Show, A Mighty Wind, For Your Consideration, and Mascots.
Sonia Braga (Renata)
Sonia Braga shows up in Shotgun Wedding as Renata, the extremely opinionated mother of the bride.
Throughout her career, Braga has given decorated performances in movies like Kiss of the Spider Woman, Moon over Parador, Wonder, and multiple others dating back to the late 1960s. She has also appeared on shows like Sex and the City, Law & Order, Brothers and Sisters, and Luke Cage, to name only a few.
Cheech Marin (Robert)
Comedy legend Cheech Marin appears in Shotgun Wedding as Darcy's father, Robert.
One of the most recognizable faces and voices in show business the past 50 years, Marin became an international sensation with his Cheech & Chong comedy act alongside Tommy Chong, which would produce movies like Up in Smoke and Cheech and Chong's Next Movie, as well as multiple albums and specials. Over the years, Marin has also landed roles in movies like From Dusk Till Dawn, Tin Cup, Machete, and various animated movies, including The Lion King and Coco. He was also a longtime star of Don Johnson's CBS police procedural, Nash Bridges.
Selena Tan (Marge)
Next up is Selena Tan, who shows up in the cast as Marge, the manager of the resort where the wedding, and kidnapping, goes down.
Though most of her career has been spent producing and starring in Singaporean movies and plays like Rogue Trader, Gone Shopping, and productions by her Dim Sum Dollies cabaret act, international audiences will surely recognize Tan from her brief performance in another beautiful wedding movie, 2018's Crazy Rich Asians.
D'Arcy Carden (Harriet)
D'Arcy Carden has been in a little bit of everything lately, and that includes Shotgun Wedding, in which she plays Darcy's new step-mom, Harriet.
In the past few years, Carden has popped up in a long list of movies that includes The To Do List, Other People, Bombshell, and most recently, The People We Hate at the Wedding. However, she is best known from her work on the small screen, including great performances on The Good Place, Barry, Broad City, Poorly Drawn Lines, and A League of Their Own.
Callie Hernandez (Jamie)
Taking on the role of Darcy's sister, Jamie, in the cast is Callie Hernandez.
Over the course of the past decade, Hernandez has appeared in a variety of movies, including Sin City: A Dame to Kill For, the unnerving Blair Witch, La La Land, Alien: Covenant, and Under the Silver Lake. During that same stretch of time, Hernandez has landed roles on shows like From Dusk till Dawn: The Series, Graves, Soundtrack, and The Flight Attendant.
Desmin Borges (Ricky)
Desmin Borges shows up in Shotgun Wedding as Ricky, Tom's longtime best friend.
Fans of the FXX comedy series, You're the Worst, will surely recognize Borges from his portrayal of Edgar Quintero throughout the show's five-season run. During his career, Borges has also appeared on shows like The Time Traveler's Wife, Utopia, and Next Caller, as well as in movies like Compliance, Tower Heist, and Mr. Popper's Penguins, to name a few.
Steve Coulter (Larry)
Taking on the role of the father-of-the-groom, Larry, is Steve Coulter.
A prolific TV actor whose credits include everything from classic shows like In the Heat of the Night to more modern standouts like She-Hulk: Attorney at Law and Atlanta, Coulter has continued to prove himself as one of the hardest working names in the medium. His film credits are just as impressive, with titles like The Founder, First Man, A Time to Kill, Flight, and Furious 7, to name a few.
Lenny Kravitz (Sean)
And last, but certainly not least, is Lenny Kravitz, who appears as Darcy's ex, Sean.
Though known more for his hit tracks like "Fly Away," "American Woman," and "It Ain't Over 'till It's Over," the talented musician has also appeared in his fair share of movies over the years, including Precious, The Hunger Games, and The Butler. He has also portrayed himself in Zoolander, Holy Ghost, and The Diving Bell and the Butterfly.
Shotgun Wedding is currently streaming for anyone with an Amazon Prime subscription. If you want to know what other releases are coming to the streaming platform and your local theater over the next few months, take a look at the 2023 new movie releases for a schedule of all the latest.
Stream Shotgun Wedding on Prime Video. (opens in new tab)
Your Daily Blend of Entertainment News
Philip grew up in Louisiana (not New Orleans) before moving to St. Louis after graduating from Louisiana State University-Shreveport. When he's not writing about movies or television, Philip can be found being chased by his three kids, telling his dogs to stop yelling at the mailman, or yelling about professional wrestling to his wife. If the stars properly align, he will talk about For Love Of The Game being the best baseball movie of all time.