Footloose: 5 Reasons I Prefer The 2010s Version More Than The 1980s Version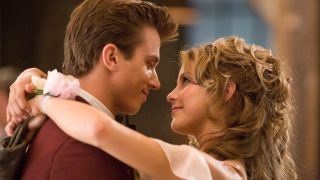 (Image credit: Paramount Pictures)
I'm a big fan of dance movies. Have been for a while, always will be. Whether that be the Step Up series or Flashdance, I've always loved the genre because they take me back to a time where all I wanted to do was get up and move. But there's one film that rules over all of them, and that's Footloose. No, I'm not talking about the 1984 version. I'm talking about the 2011 remake: the superior version in my mind.
I know what you're thinking: "This uncultured swine! How dare she say that the redo is better than the classic!" All is fair in what you think and how you feel, but there are many reasons as to why I love the 2011 Footloose so much more than the 1984 movie, and today, we're going to get into it.
No Disrespect To The Original Soundtrack, But I Like The New One More
The original soundtrack from the 1984 version of Footloose is a banger. There's a reason why the movie was later on turned into a full-on Broadway musical. Also, several of the songs from the first movie were also in the remake, and Kenny Loggins' version of Footloose will always be superior to Blake Shelton's.
That being said, there's just something about the new songs in 2011's Footloose that make me want to get up and dance more. I love the song "Where The River Goes," and I have "Fake I.D." blasting on my phone literally every single day (and I don't even like country music). Another one I also personally enjoy is "Dance The Night Away," because – surprise, surprise – I always want to dance the night away whenever I listen to it.
Again, I'm not saying the music from the original movie is bad, because it's not. There are some brilliant songs from there that I still listen to on a constant basis, such as "Holding Out For A Hero" and "Let's Hear It For The Boy." But the 2011 version just ticked a little more with my ears, so that's why I rate it a little higher.
The Story From The Original Was Made Better With Modern Touches
The story in both versions of Footloose is identical. A city kid moves into a small town and finds out that dance and music is banned because the local reverend thinks it leads to "evil things," so the kids decide to rebel.
There's really not much changed from the actual plot of the movie in the remake, and to an extent, I appreciate that. I like that they kept it in line with what you would expect from a Footloose movie so that nothing is too surprising. What makes it better is that while it's the same narrative, it's improved upon with modern touches.
I'm talking about the additions of modern-day dancing – such as the hip-hop/country infused line dance of "Fake I.D.," or the dancing out near the race track which wasn't really featured that much in the original. The usage of modern-day appliances like iPods and headphones make it feel like the 1984 version just got transported to a modern-day world.
I Also Like The New Cast More
The original Footloose cast is full of talent. Obviously there's Kevin Bacon, but there are plenty of other great actors who are featured in that have gone on to have impressive careers, such as the amazing John Lithgow, the wonderful Sarah Jessica Parker, the late Chris Penn and so many others. They are extremely talented.
The Best Kevin Bacon Movies And How To Watch Them
But again, it's a case of "different generations, different actors," and I adore the actors in this adaptation of Footloose. Specifically, Julianne Hough is freaking awesome as Ariel Moore. She still has the character's sweet attitude but has added-on flair that makes her so much fun to watch on screen. And obviously her dance moves are fantastic.
Another person I love from the main cast is Miles Teller. While he's been getting bigger the last few years, with him being a part of Top Gun: Maverick and The Offer cast, this was one of the first movies I ever saw him in and he is terrific as Willard. He is goofy but good-hearted and he plays is perfectly. Even Dennis Quad as Reverend Shaw Moore is an excellent casting decision.
The Dance Scenes Feel Cleaner And Better Choreographed
Whenever I talk to people about 2011's Footloose, the one thing they always bring up is that the dancing is amazing. While 1984's Footloose was revolutionary in many ways, I think the dancing is better in the remake.
Not only are there different varieties of dancing, but it's just better choreographed. Everyone feels so much more in sync, and the skilled performers make the movie that much more entertaining. On a more personal note, this movie's dancing meant so much to me that I started to learn how to dance like the characters because I thought it looked so cool. To this day I still know the line dances and dance moves.
The film made me want to become a dancer, and I have no regrets about saying that the dancing is just better.
I Love Kevin Bacon As Ren McCormack – But Kenny Wormald Did A Great Job Too
I will be the first to say that Kevin Bacon as Ren McCormack is another level of perfect casting. It's hard to replace him and find someone suitable.
There were several actors who were attached to the role of Ren when the 2011 Footloose was announced, including Zac Efron, and even Chace Crawford from the Gossip Girl cast (or from The Boys, depending on when you discovered him). But the role ultimately went to Kenny Wormald after the two actors before had to leave due to conflicting projects, and does a great job.
Kenny Wormald has mainly kept to smaller roles since Footloose, appearing in other dance movies (since he is a professional dancer) and minor parts in shows like Fear the Walking Dead, but he is great as Ren. He brings the swag that the protagonist needs as well as the charming smile and the dance moves. Kevin Bacon has a certain charismatic edge over Wormald's version, but he does a standout job all the same.
While we can all like what we're going to like, I'll still stand by my thoughts and say I enjoy the 2011 Footloose a heck of a lot more. If you've never had the chance to see the remake, be sure to check it out. You'll have a fun time – and all you'll need to watch it right this instant is a Paramount+ subscription.
Stream Footloose on Paramount Plus. (opens in new tab)
Rent/Buy Footloose on Amazon. (opens in new tab)
Your Daily Blend of Entertainment News
Big nerd and lover of Game of Thrones/A Song of Ice and Fire. Will forever hate season eight. Superhero and horror geek. And please don't debate me on The Last of Us 2, it was amazing!