Jamie Lee Curtis Gets Emotional Talking About Why She Thinks Michelle Yeoh Is The Reason For Her Oscar Nomination
Their friendship is the sweetest thing ever!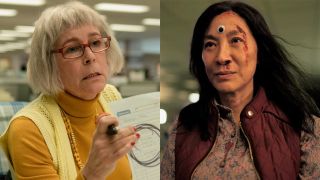 (Image credit: A24)
While Jamie Lee Curtis has many iconic movies, she's never been nominated for an Oscar, until this year. The actress, along with many of her Everything Everywhere All at Once family found themselves on the 2023 Oscar nominee list, including the film's star Michelle Yeoh, and they are all overjoyed. Since the news broke, Curtis has not only been Yoeh's biggest cheerleader, but she also got emotional talking about why her co-star and friend is the reason she thinks she got her Academy Award nomination.
You can hear the legendary actress getting choked up while talking about her Oscar nomination, and her beloved co-star. She really does love the Everything Everywhere All At Once star, and that passion and admiration are clear in this video from Variety:
"Michelle Yeoh is the reason that, for the rest of my life, you will say, 'Oscar nominated actress Jamie Lee Curtis.'" Jamie Lee Curtis talks about her Oscar nomination for "Everything Everywhere All at Once." https://t.co/pUs3a4gS0D pic.twitter.com/bnXtBL7NXLFebruary 10, 2023
If you read her quote a bit closer, you can see the love she has for Yeoh, and how this decision to star in this little funky A24 film has changed her life forever. You can also tell while watching the movie that the two actors loved working together, and had brilliant chemistry. Between their tense relationship in the main universe to the parallel universe where they're lovers with hotdog fingers, I believed everything they did, and I could tell they were having a blast.
Curtis has made it clear that Michelle Yeoh was the reason she decided to join The Daniels film more than once. She has also been the actress's biggest fan this award season. One of my favorite moments from the actresses came during The Golden Globes when the EEAAO lead won for her performance as Evelyn Wang. The Halloween star threw her arms in the air, and she screamed with joy for her co-star. That moment went so viral there are now t-shirts you can buy that feature Curtis' passionate cheering.
Along with all the lovely awards reactions, Curtis has also been open about how much this recognition means to her. On Oscar nomination day, the actress uploaded an emotional post about how much the recognition meant to her, noting it "was never even in [her] wildest dream box."
Along with Crutis and Yeoh being recognized, the movie received nine other nominations, including two other acting nods for Ke Huy Quan and Stephanie Hsu, who was one of the biggest Oscar surprises on nomination day. Overall, it was a very happy day for Everything Everywhere all at Once, and Curtis' emotions about it all mirror the cast and crew's feelings about the movie's positive reception perfectly.
It really does mean a lot to have "Oscar nominee" before your name, and now Curtis will have that title for the rest of her life, including her upcoming film on the 2023 movie schedule. And according to her, she has Michelle Yeoh to thank for all of it.
Your Daily Blend of Entertainment News
Riley Utley is a Weekend Editor at CinemaBlend. She spent many years working in local journalism across the country writing about art, news and sports. One of her favorite films is When Harry Met Sally and she walks around constantly quoting Ted Lasso.