Nic Cage Recalls Getting Hustled By Keanu Reeves At A Party, Still Digs His Movies
Honestly, this is a pretty hilarious response from Cage.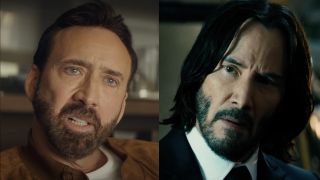 (Image credit: Lionsgate movies)
There is nothing like a good anecdote about two Hollywood-A listers crossing paths in their regular lives. Add a little fast action hustling and billiards, and you've got yourself one heck of a story on your hands. It is precisely the type of story Nic Cage recently shared about his time at a party with John Wick actor and the internet's most loveable dude, Keanu Reeves. That's right, according to Cage, the Speed star once hustled him at a game of billiards at a party, but he doesn't hold that against Keanu because he still "digs" his movies.
Costars Nic Cage and Nicholas Hoult recently sat down for a Reddit AMA to promote their upcoming horror comedy, Renfield. During the ask me anything, the two actors were questioned by a user about what their favorite Keanu Reeves movies were–you can see our ranking of his characters. Though Hoult had a simple enough response, stating he liked " the first John Wick" and Speed quite a lot, Cage took the opportunity to share a pretty hilarious story about being taken advantage of in a game of pool by the Matrix alum. Cage responded:
Although Cage has mixed emotions about being dominated at billiards, he still admires Reeves as an actor. The Face Off actor shared his fondness for, in particular, Reeves' early work. He continued:
Cage is no stranger to the world of billiards, having played a hustler himself in the 1986 sports drama The Color of Money (one of his best films) opposite Paul Newman and Tom Cruise. In the film, Cage's character impresses Newman's character with his pool skills, but it seems that in real life, he couldn't quite measure up to Reeves. Still, it seems like The Unbearable Weight of Massive Talent actor knows how to laugh at himself.
Nic Cage's good sense of humor seems to be serving him well in his upcoming horror movie. Early reviews for Renfield are in, and it sounds like critics are having a hell of a time being disgusted in the best way over the Cage and Hoult team-up. If anyone can play an interesting Dracula, it's undoubtedly Nicolas Cage.
It seems that Cage's loss to Reeves at billiards was just a small setback in their friendship. These two Hollywood icons will undoubtedly continue to support and inspire each other for years to come. They can both have films gracing the 2023 new movie releases lineup. Reeves can be seen dominating the box offices now in John Wick: Chapter 4, and Cage returns to cinemas in a role he was born to play, Dracula, in Renfield on April 14th.
Your Daily Blend of Entertainment News
Ryan graduated from Missouri State University with a BA in English/Creative Writing.