No Big Deal, Just Olivia Wilde And Jason Sudeikis Hugging It Out Months After Custody Drama
Did anyone have an embrace between Olivia Wilde and Jason Sudeikis on their bingo card?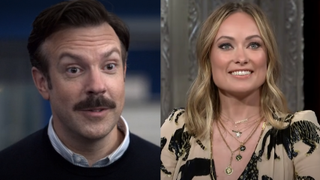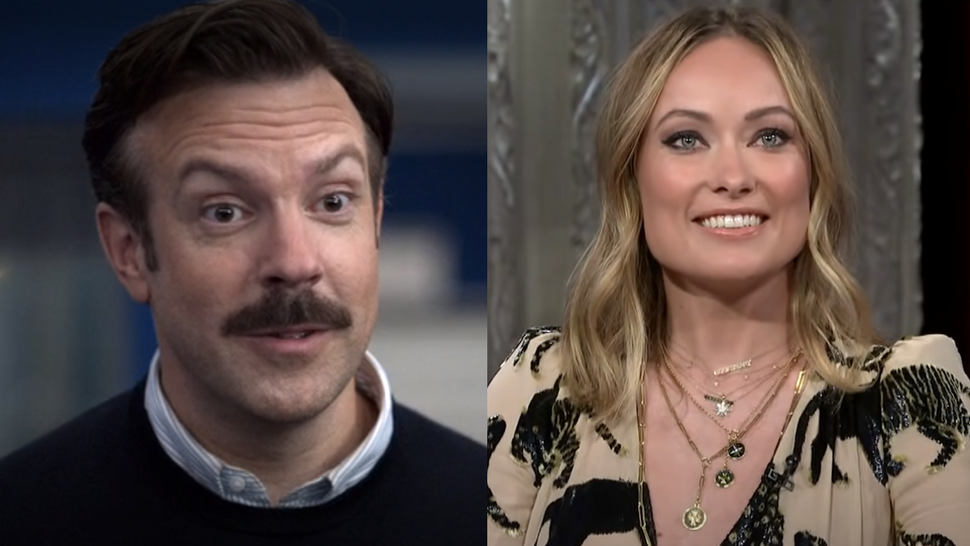 (Image credit: Apple TV+/CBS)
From the outside looking in, the relationship between Olivia Wilde and Jason Sudeikis has seemingly had its share of ups and downs. Sudeikis and Wilde broke up in 2020 and, since then, the two have been subject to much speculation. Rumors heated up after Wilde began dating pop star Harry Styles, with sources alleging that she left Sudeikis for the singer – a claim she's since denied. And the drama only ramped up after the Ted Lasso star served Wilde legal papers while she was presenting before an audience at CinemaCon. Despite all of that though, she and Sudeikis were both recently spotted hugging things out. I mean, no big deal, right?
The stars, who share two children, met up in Los Angeles on Friday and, during their encounter, paparazzi snapped photos of them embracing each other. Said snapshots (and the accompanying video footage) were obtained by DailyMail.com, though the news outlet didn't provide any details regarding the exact reason why the stars crossed paths. But like they say, a picture is worth a thousand words, and these particular shots would seem to indicate that they two are, at least, cordial at this point. And considering everything they've been through over the past several months, this is a significant development.
Olivia Wilde was seemingly shocked when a person served her custody papers while she was presenting her latest film, Don't Worry Darling, at CinemaCon last year. Months later, Wilde opened up about being served in such a public setting, calling the situation "upsetting" while also calling it a "huge breach in security." Much was said regarding why Jason Sudeikis chose to have the papers delivered at that point. While he was apparently unaware of where and when they would be sent, Sudeikis did say that Harry Styles factored into his decision. The Saturday Night Live alum apparently didn't want to risk the documents being sent to Styles' abode, where his kids – Otis and Daisy – might've been present.
While it was a messy matter at the time, it's said that time heals all wounds, and that would certainly appear to be the case here. But aside from Jason Sudeikis though, Olivia Wilde is reportedly still "adjusting" in the aftermath of her breakup with Harry Styles. Per reports, the two were incredibly close before they opted to take a break back in November after nearly two years of dating.
Nevertheless, sources also say that the Booksmart director is currently putting most of her focus on her family. Insiders also said that co-parenting between the star and her ex has been "manageable." With that, she apparently isn't looking to jump back into the dating pool right away. The same can't be said for Harry Styles, however, who was recently spotted with former flame Ellis Calcutt. It's yet to be confirmed whether the two are actually back together, though.
What can be said at the moment is that it's nice to see Olivia Wilde and Jason Sudeikis seemingly on good terms again. Surely, they'll seek to maintain a friendly relationship as they continue to co-parent their two little ones. One has to imagine that such a tense time can't be easy for the kids either and, at the end of the day, most can certainly agree that their well-being supersedes any kind of legal drama.
Your Daily Blend of Entertainment News
Covering superheroes, sci-fi, comedy, and almost anything else in film and TV. I eat more pizza than the Teenage Mutant Ninja Turtles.