Ryan Reynolds Sheds Light On His Decision To Take A Break From Acting
After Free Guy and Red Notice, Ryan Reynolds is stepping back from the spotlight.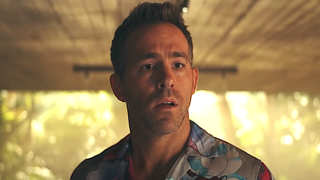 (Image credit: Netflix)
Ryan Reynolds is one of the hardest-working people in show business. In the past five years, he's released 15 films, including multiple blockbusters. So when he recently announced that he's taking a step back from his acting career, it may have come as a shock. However, he's now opening up about the decision, and his reasons should come as no surprise.
In 2021 alone, the Canadian-born actor has starred in two of the biggest movies of the year: Free Guy, a huge blockbuster hit, and Red Notice, which just hit Netflix this weekend. When he hasn't been busy making huge Hollywood hits, he's been keeping fans entertained on TikTok, proving he's one of the rare stars whose appeal spans multiple generations. So his decision to take the rest of the year off is curious. When Fatherly asked him whether he was really going to be stepping back from the spotlight, he provided some clarity as to what his plans are:
Reynolds' decision to spend more time with his family is understandable -- even if his wife, Blake Lively, used the announcement as yet another reason to troll him mercilessly. During the interview, Fatherly pointed out that most people don't slow their momentum when they're reaching new career heights -- a point Reynolds was happy to reflect on:
One would imagine that the actor could also use the break to refresh his mental health. He's been quite open about his own struggles in past and has encouraged others to make their own a priority.
While his decision to take a few months off from filming may mean we'll be waiting longer for some of his most highly-anticipated projects, his self-awareness and willingness to prioritize his family is respectable. Plus, fans worried about missing seeing Ryan Reynolds on screen won't have to wait too long, even with his hiatus. He'll soon mark the release of his science fiction movie, The Adam Project, which hits Netflix in early 2022. He also recently wrapped Spirited, a musical take on A Christmas Carol, which will hit Apple TV+ in the not-too-distant future.
Your Daily Blend of Entertainment News