See Melissa McCarthy Get Slimed By Little Mermaid Co-Stars Halle Bailey And Awkwafina
Revenge is a dish best served… green, slimy, and in massive quantities.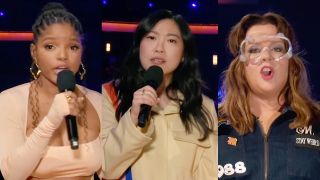 (Image credit: Paramount Global, Paramount Media Networks, and Nickelodeon)
Halle Bailey and Awkwafina got a bit of revenge on their wicked Sea Witch-playing co-star during the Nickelodeon Kids Choice Awards. Melissa McCarthy might be set to play the villainous Ursula (a role she beat out Lizzo for) in the upcoming Disney movie, but she was less than threatening dangling above a massive vat of the kid's channel's famous patented green-colored slime during the children's awards ceremony on March 4th. And you can watch the Ariel and Scuttle performers slime their funny woman fellow actresses.
The 34th annual Kids Choice Awards show, co-hosted by CBS This Morning sports analyst Nate Burleson and Dancing with the Stars winner and social media star Charli D'Amelio, aired from the Microsoft Theater this past Saturday. Awkwafina, Melissa McCarthy, and Halle Bailey were just a few stars who appeared during the broadcast. Still, they were most certainly some of the most memorable after dunking the Ghostbusters vet in a tank filled with over 1,500 gallons of slime. Watch as The Chloe x Halle performer jokingly scolds McCarthy, saying, "Villains never learn. Don't do the crime if you can't do the slime" before hitting a comically splatter-shaped button sending the Spy actress into the neon-toxic colored goo. The clip is in the official Award's account's Instagram post below:
We must give it to Melissa McCarthy; she took her swim in the sludge like a champ!
Halle Bailey recently shared more underwater footage from the highly anticipated movie, including a first glimpse of Melissa McCarthy as Ursula the Sea Witch. Director Rob Marshall assembled a killer cast to play Ariel, Triton and more in order to bring his vision for the underwater adventure to life, and it includes live-action performances as well as voiceover work for the animated characters. Is it March yet? The entire cast looks like they're having an awesome time and are likely going to crush it with their performances!
While on the Nick stage, the Disney cast pretended to have beef; behind the scenes, that wasn't the case. Awkwafina, who lends her voice to the eccentric seagull, Scuttle (who's known for thinking she is an expert on everything human), said in the past that performing in The Little Mermaid was a mind-blowing dream come true. And she said that's primarily because of her talented co-stars. One can only imagine how that chemistry will translate to an engaging movie, and I cannot wait.
The humorous back-and-forth between The Little Mermaid cast was definitely a highlight of the night's festivities. Of course, fans probably wouldn't have minded a new trailer to go along with that bit. Hopefully, one arrives sooner rather than later but, in the meantime, I'm down for more shenanigans like these from Melissa McCarthy, Halle Bailey and Awkwafina.
The Little Mermaid is slated to swim into cinemas on March 26th and presumably, the House of Mouse's streaming service later this year. All you'll need is a Disney+ subscription if you can't make it out the door to see it on the big screen. While you wait for Ariel and the gang to return, check out the schedule 2023 new movie releases to plan your next cinematic experience.
Your Daily Blend of Entertainment News
Ryan graduated from Missouri State University with a BA in English/Creative Writing.