10 Movie Superheroes And Villains I Don't Want To See Again Anytime Soon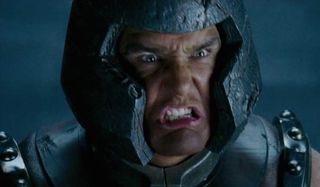 Over the last two decades, superhero films have adapted plenty of memorable protagonists and antagonists for the big screen. A large portion of these characters have gotten to appear in several films, while others only had one chance at cinematic fame - but left their own mark, whether positive or negative. Given the nature of reboots and sequels, some of these individuals are revisited, but that doesn't mean that every comic book character deserves that treatment.
While the next five years are going to be introducing a variety of characters that haven't appeared on the big screen yet (especially on the DC Comics side), there will also be plenty of familiar faces returning, from the Avengers and X-Men to Batman and Superman. Keeping in mind how exponentially popular this genre is growing, there's a belief that some characters should be brought back for another round. This list features the heroes and villains that we don't really want to see again, whether it's because they were so incredibly painful to watch the first time, if they've already had plenty of chances to shine, or if their arcs have simply reached the point where there's no need to delve further.
Blade
Blade is notable for beginning his film series only two years before X-Men, the film that many consider to have kicked off the modern era of comic book movies, was released. Although the first two entries did decently, Blade: Trinity was received negatively and hasn't appeared on the big screen since. Marvel Studios has since gained the rights back to the character, but no plans have been announced for Blade to be introduced in the Marvel Cinematic Universe. Despite Wesley Snipes keen on returning for a Blade 4, it would be best if the vampire hunter was set aside for now. Killing vampires is an exciting and pulse-racing career, but Blade very recently had his time to shine in a full trilogy of films, and with the way things are going in the MCU, there's no rush to bring him in.
Iceman
Bobby Drake has had a good run in the X-Men films. Introduced in the first live-action film, he got to show off more of his powers in X2: X-Men United, achieve his famous ice form in X-Men: The Last Stand, and even fight Sentinels in X-Men: Days of Future Past. While the end of that last movie showed him to still be alive and well in the future, now is the time to bid that character goodbye. He's no longer the teenager that was learning to use his powers, and the franchise seems keen on deeply exploring other mutants… yes, even ones that aren't Wolverine. Iceman got the chance to show off his cool powers in four films and is seemingly still is a happy relationship with Rogue. He may have been one of the team's founding members in the comics, but character-wise his arc has wrapped up. So let's let him live his happy life at the Xavier mansion without putting him through the wringer again.
Elektra
Despite the 2003 Daredevil film not being much of a success (if only they had released that director's cut in theaters), 20th Century Fox decided to give The Man Without Fear's love interest Elektra her own spinoff in 2005. One would think that a talented female assassin fighting ninjas would be great to see, but the film earned negative reviews and barely broke even at the box office. Elektra is a prominent player in the Marvel Comics universe, but no one's begging to see another live-action iteration of her, let alone giving her another solo film. While it's possible that the Netflix Daredevil series may be able to do her justice should it renewed for a second season, and it's been teased that her existence is hinted at in the series, it won't hurt anything if she doesn't show up in the MCU.
Robin (Dick Grayson)
Let me clarify something with this entry: this is not saying that Dick Grayson should never on film again. Quite the contrary, as with the DCCU giving us a grizzled Batman that's been fighting crime for over a decade, it's entirely possible that we could see an older Dick Grayson show up in his Nightwing identity. However, there's no need to ever show him as Robin. Chris O'Donnell already showed us what a Robin in his late teens-early 20s would look like, and it wasn't a pretty sight. At this point, Robin is well-known by enough people in the general audience that there doesn't even need to be flashbacks about how he came the Boy Wonder. If the DCCU wants to show Dick as the crimefighter that left Batman's shadow and struck out on his own, fine, but don't give us the young Dick clad in red and green tights for any future film. Leave that to Carrie Kelley, who has been rumored to be appearing in Batman v Superman: Dawn of Justice.
The Abomination
Had things gone differently in the MCU, Abomination might not be an entry on this list. If The Incredible Hulk had earned a sequel, it would have been cool to see Hulk's equally strong nemesis return and possibly team up with The Leader. As it stands now, Marvel seems to only want to use Hulk as an Avengers member in the films, and the transformed Emil Blonsky hasn't appeared since he was imprisoned by the military at the end of his only film. While the chances of him showing up again were already slim, Hulk has enough to do fighting Ultron and other extremely powerful bad guys from around the MCU. There's no need to need to watch another fight between two gamma-powered powerhouses when it's likely we'll see Hulk go up against Thanos in the Avengers: Infinity War movies. It's hard to measure up against that.
Bane
The two big screen incarnations of Bane we've seen so far were radically different from each other. Batman and Robin's Bane was a Venom-filled, grunting idiot whose arms looked like they were inflated, while The Dark Knight Rises version was a calculating genius with a bizarre breathing mask that muffled his speech. In other words, aside from their enchanted strength, they're basically at opposite ends of the spectrum. It's been reported that Batman will eventually get another solo film series in the DCCU, meaning Batman's rogues gallery will be getting the live-action treatment. Joker is already slated to appear in Suicide Squad, and it's likely that other villains that have already appeared in film will be reinterpreted, but Bane shouldn't be one of them. Tom Hardy gave a chilling performance as a Bane whose mind was as strong as his body, and even if the next intelligent Bane were given super-strength, there still wouldn't be enough to warrant putting him in the Batman reboot. The Dark Knight Rises did a good (though not perfect) job with the character, so let's leave him be for now.
The Punisher
Even ignoring the Dolph Ludgren TV film from 1989, the Punisher has had two chances at big screen success: 2004's The Punisher and 2008's Punisher: War Zone, both taking place in separate continuities. While the 2004 film does have its share of proponents, both films ultimately fared poorly in theaters. After Marvel Studios got the rights back to the character a few years ago, there were rumors that they wanted to give him a TV series, but nothing ever surfaced on that end. It would be a lie to say that Frank Castle doesn't have fans, but with the way the MCU is progressing right now, throwing an ex-military man laying waste to criminals everywhere into the mix would feel out of place. A reference to him might be fine, but it would be best if Punisher didn't get an opportunity to star in his own film again. Like the case with Elektra, this is a case that could very well change with the release of Daredevil - a show taking a much grittier approach than we've seen from the MCU – but regardless, Punisher has had his exposure.
Juggernaut
Instead of keeping his comic book history intact as Charles Xavier's step-brother, the X-Men film franchise decided to make Juggernaut the hired muscle of X-Men: The Last Stand with his own ridiculed catchphrase ("I'm the Juggernaut, bitch!"). The character was planned to be used again in X-Men: Days of Future Past, but was replaced by Quicksilver. Had that connection to Professor X been established in the films, further exploring the unstoppable mutant (literally) might have been an interesting prospect, but as it stands now, the character doesn't have enough substance within the world of the established X-Men franchise to warrant returning - even for a minor appearance. Unless 20th Century Fox wants to truly reboot the series, and that won't be happening anytime soon, then let's leave Juggernaut to be laughed at when people rematch X-Men: The Last Stand during their X-Men movie marathon.
Venom
The Venom we got in Spider-Man 3 was a less-than-stellar imitation of the monstrosity fans are fond of from the comics. Before the Amazing Spider-Man series was scrapped, there were plans to give the villain/sometimes anti-hero his own spinoff, and while that movie hasn't been officially cancelled since Sony and Marvel began their partnership, it's unclear if it will actually get made. While it's expected that certain villains like Green Goblin will show up again in the new Spidey continuty, this is also the perfect time to introduce adversaries that haven't appeared on film yet, like Mysterio or Scorpion. As badass as Venom is, it would be a shame to see the character misinterpreted yet again, so rather than risk that happening, Marvel and Sony really should leave the symbiote behind and focus on giving Spidey villains who haven't gotten the chance to shine just yet.
Ghost Rider
Ah, the flaming skull head who rides around on a hellfire motorcycle and fights demons. You did not fare well on the big screen. Portrayed by Nicolas Cage, Johnny Blaze appeared in 2007's Ghost Rider and 2012's Ghost Rider: Spirit of Vengeance, and can easily be described as critical jokes. Understandably, Sony decided they didn't want to continue making Ghost Rider films and gave the rights back to Marvel Studios, but there haven't been any announcements for upcoming projects featuring him since. Here's the thing: much like Blade, Ghost Rider isn't a great fit for the MCU. Despite Doctor Strange soon introducing legitimate magic, throwing in a demon-killing stunt motorcyclist is a radical departure from what we've seen thus far in this universe. With all that's planned for Phase 3 and beyond, there's little need to include Ghost Rider in these shenanigans. Besides, most of us are still trying to forget how awful the previous film series was.
Connoisseur of Marvel, DC, Star Wars, John Wick, MonsterVerse and Doctor Who lore. He's aware he looks like Harry Potter and Clark Kent.
Your Daily Blend of Entertainment News
Thank you for signing up to CinemaBlend. You will receive a verification email shortly.
There was a problem. Please refresh the page and try again.