Will Adam Sandler's The Do-Over Be A Return To NSFW R-Rated Glory?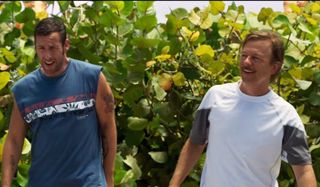 Last year we got the first of a series of films for Netflix that will star Adam Sandler, The Ridiculous Six, and now we have our first look at the second. Entitled The Do-Over, the teaser, at first, makes it look like much the sort of film that we have seen from the comedian in recent years, but watch this until the end and you'll receive one major indication that this movie won't be a film like Grown-Ups but will, in fact, be a film for grown ups and may be a return to more R-rated territory. If you're watching this at work, maybe keep the volume low.
While the teaser provides very little information about the film itself, the single F-bomb spoken by David Spade at the end gives us the distinct impression that The Do-Over is looking to be an R-rated affair. The rest of the teaser doesn't give us much to go on as far as how far the movie will go, but we have to admit that we're interested to find out. This would be a pretty major shift for Adam Sandler comedies, which have routinely remained in the realm of PG-13 lately. While Sandler has done R-rated films before, his Happy Madison production company hasn't produced one since 2012's That's My Boy, in which Sandler co-starred with Andy Samberg.
Seeing Adam Sandler and David Spade leading a film together again reminds us of the last couple times the pair did that, 2010's Grown-Ups and its 2013 sequel, Grown-Ups 2. While neither film was particularly popular with critics, both were box office successes. It would have made a lot of sense for the pair to shoot for the same audience with The Do-Over. Instead, what the movie gives us is an R-rated action comedy, starring Sandler and Spade as a pair who fake their own deaths in order to get a do-over at life, only to take over the identities of people who have even more problems than they do.
Adult comedies have shown some consistent success in recent years with box office champs like Seth Rogen's Neighbors and Amy Schumer's Trainwreck both putting up big box office numbers. It could be this trend that Netflix is looking to cash-in on with their next Adam Sandler production.
The Do-Over is the second in a multi-picture deal for Adam Sandler at streaming giant Netflix. The first film, The Ridiculous Six, became one of the most watched movies in the history of the streaming provider, although some of us only did so because we had to review it. That film was also marred by controversy regarding the treatment of Native Americans on the set.
Would a more adult outing for Adam Sandler and David Spade make you more or less interested in checking out their next film? The Do-Over will premiere on Netflix May 27, will you be watching?
CinemaBlend's resident theme park junkie and amateur Disney historian. Armchair Imagineer. Epcot Stan. Future Club 33 Member.
Your Daily Blend of Entertainment News
Thank you for signing up to CinemaBlend. You will receive a verification email shortly.
There was a problem. Please refresh the page and try again.