Captain America Civil War: Is This Our First Peek At Spider-Man's Suit?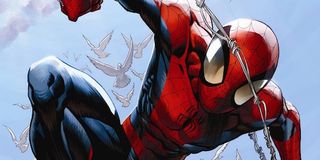 Now that it's official Tom Holland will play Peter Parker in the Marvel Cinematic Universe, fans are looking forward to seeing what his Spider-Man costume looks like. The outfit has already been designed, and Marvel's Chief Creative Officer, Joe Quesada, said that it "will blow people away." Now we may have a glimpse of what the latest cinematic Spider-Man will be wearing next year.
Birth.Movies.Death. came across a Twitter account supposedly belonging to the Russo Brothers, the directors of Captain America: Civil War, which will be Spidey's MCU debut. It hasn't been confirmed whether this is truly them (though they are being followed by several Marvel and Disney bigwigs), but two of the pictures they tweeted look like they're sneak peeks at the Wall-Crawler's mask. Take a look at the first picture.
This appears to be a goggle that has shutters on it. The article speculates that the shutters may be a way to adapt Spidey's trademark lense expressiveness, i.e. squinting and widening, from the comics. Although his previous costumes have been fairly faithful to the main one seen in the comics, the lenses were static, so this would be an opportunity to give fans a Spidey who can be visually emotive while wearing his mask. However, if you still have doubts, take a look at Picture #2.
Aside from the eyepieces being black as opposed to the typical white, this looks much closer to a standard Spider-Man mask, even down to that unique texture. Changing the lenses from black to white would be an unusual design choice, though Doctor Octopus did wear a Spider-Man costume with black lenses when he was in control of Peter Parker's body during the Superior Spider-Man arc. It's previously been mentioned that Spider-Man's new costume will look more "homemade," but keep in mind Peter Parker is still a boy genius. If these pictures really are glimpses of the new mask, maybe he built a pair of goggles to go over the lenses that are somehow connected to his eye movements. If he's going to be dropping one-liners while fighting criminals, he might as well show emotion while his face is covered up.
While it may be a while until we learn if these images are legitimate, we can look forward to seeing Spider-Man's new suit in action when Captain America: Civil War hits theaters on May 6, 2016, followed by his solo film on July 28, 2017.
Your Daily Blend of Entertainment News
Connoisseur of Marvel, DC, Star Wars, John Wick, MonsterVerse and Doctor Who lore. He's aware he looks like Harry Potter and Clark Kent.