Concussion Trailer: Watch Will Smith Put The NFL On Blast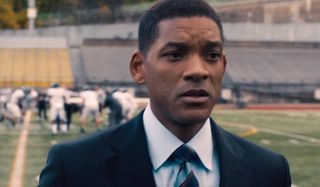 We've been hearing about Will Smith's football concussion drama for a while, and now we have our first look through the first Concussion trailer. The Suicide Squad actor delivers a dramatic performance as the NFL transforms into a evil conglomerate. Watch the footage below.
It seems crazy to think that at some point in our history there were people who believed football players crashing their heads together repeatedly wouldn't have any longterm effects, but that's the true story Concussion is telling. Smith portrays Dr. Bennet Omalu, who discovers a rare brain disease incited by repeated head injuries.
National Football League safeties Dave Duerson (Thor: The Dark World's Adewale Akinnuoye-Agbaje) and Andre Waters (Hot Pursuit's Richard T. Jones) were two of the players he studied, and Omalu determined they were suffering from the neurodegenerative disease known as chronic traumatic encephalopathy. When Omalu first brings this knowledge to the NFL, he's met with hostility, prompting a war between this moneymaking conglomerate and the truth. Albert Brooks and Alec Baldwin portray doctors helping Omalu with his research, while Luke Wilson is rumored to play NFL commissioner Roger Goodell.
This true story was documented by Jeanne Marie Laskas in an article for GQ magazine titled "Game Brain." It's this feature on which Concussion is based. Director-writer Peter Landesman — who wrote and directed Parkland, as well as the screenplays for Trade and Kill the Messenger — is helming this adaptation, which he also wrote.
While this film is very much focused on Smith's performance, which seems to be on par with some of his more emotionally charged roles in I Am Legend and The Pursuit of Happyness, you can't miss Gugu Mbatha-Raw popping up in the beginning of the trailer. Though it doesn't seem like she has a large role to play, this 32-year-old actress has been slowly rising in the ranks. She headlined the indie film Belle, played a superstar in Beyond the Lights, and popped up in a background role for the Wachowski's Jupiter Ascending. She'll also be seen in Disney's live-action Beauty and the Beast film as Plummette opposite a cast that includes Emma Watson, Luke Evans, Dan Stevens, Ewan McGregor, and Sir Ian McKellen.
Concussion is set for release on December 25, alongside other holiday releases like the Point Break remake, Jennifer Lawrence's latest David O. Russell film Joy, the Edward Snowden biopic starring Joseph Gorden-Levitt, Quentin Tarantino's highly anticipated The Hateful Eight, and Oscar winner Alejandro González Iñárritu's The Revenant, with Leonardo DiCaprio. It's unknown at this time whether Sony will be making a push for the Oscars with Concussion, but the release sets it up nicely for a campaign. Although, it's also surrounded by some heavyweight competitors, not to mention Star Wars: The Force Awakens hitting theaters a week before.
Your Daily Blend of Entertainment News
Thank you for signing up to CinemaBlend. You will receive a verification email shortly.
There was a problem. Please refresh the page and try again.