The Crazy Gifts Chewbacca Mom Has Earned Since Going Viral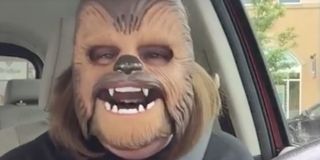 When Candace Payne put on her brand new Chewbacca mask on May 19 and then uploaded a video of her gregariously laughing to its sounds, she probably didn't realize that she'd soon be a viral sensation. Now known the world over as Chewbacca Mom, the Grand Prairie, Texas, stay-at-home mom's Facebook video has been viewed over 150 million times. It doesn't stop there, though. Because it's now been revealed that Candace Payne has also received around $420,000 in gifts.
According to Time, numerous companies and outlets have been battling to associate themselves with Chewbacca Mom, who in return has been rewarded and showered with gifts, free travel, and even college scholarships. Yes, college scholarships! Just check out the lavish goods that have come her way over the last month:
Well played, Candace Payne. Well played indeed. Chewbacca Mom started profiting from her viral video after Kohl's decided to reward the huge amount of free publicity they received by showing up at her home with an array of gifts that included $2,500 in gift cards and Chewbacca Masks for all of the family. That way the Payne clan didn't have to fight tooth and nail over hers.
As Candace Payne's stock continued to rise she travelled across the United States, from Texas to New York to Los Angeles and even to San Francisco, where she visited Good Morning America, James Corden and J.J. Abrams on The Late Late Show, and even Lucasfilm Studios and Facebook headquarters. This left a bill of around $5,000, which includes flights, hotels, and VIP tours, while Hasbro then chimed in $2,500's worth of toys and gift certificates.
But easily the most bizarre present provided to Candace Payne and her entire family was full college scholarships to her and her brood from central Florida's Southeastern University. Dr. Kent Ingle, who is the president of the college, offered them this gift because she has "inspired us and others with her joy, and we want her and her family to experience some of that same joy through this gift."
No, you're crying.
For those of you that have been living under a rock or decided to avoid Chewbacca Mom's video because it was too popular, you need to give into temptation and watch it in all of its entirety, below. It's 4 minute and 4 seconds of pure unadulterated joy and it will instantly renew your faith in the world.
While the cynics out there will no doubt be flummoxed by all of the attention that has come Candace Payne's way, she will now be laughing at them all the way to the bank. In fact, she's clearly so gosh darn nice that she'd probably give them all a hug as she went.
Your Daily Blend of Entertainment News