The Crow Just Found Its Crow And Shelly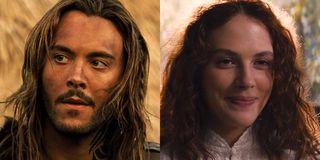 When it comes to the topic of long-gestating reboot projects that have thus far ended up nowhere, The Crow is probably right up there with the longest to exist in this disgraceful developmental purgatory. However, it's finally looking like this bird of a film will be ready to fly free, since it is being reported that the upcoming reboot has not only cast its titular vengeance-focused rock and roll revenant, but has also filled the role of his ill-fated love, Shelly.
According to a report from Dread Central, James O'Barr, creator of the original comic book that inspired the various iterations of The Crow film and television franchises fielded questions at the recent Lexington Comic and Toy Convention, confirming the rumors that Boardwalk Empire star, Jack Huston will star as the murdered wannabe rocker, turned gothic spirit of vengeance, Eric Draven, aka, The Crow. Additionally, O'Barr reportedly also revealed that star of Winter's Tale and TV's Downton Abbey, Jessica Brown Findlay would be taking the role of Eric's tragedy-bound fiancée, Shelley Webster.
Thus far, the news is only coming from the mouth of O'Barr and official confirmation from the studio has yet to surface. However, Huston does seem to have the creator's blessing and was even surprised that an actor of Huston's caliber would be up for something he called a "small budget genre movie." As O'Barr optimistically states,
The film will be helmed by an emerging director Corin Hardy, the latest occupant of a director's chair that has had several names attached. Likewise, the almost humorously long list of actors who have been up for this role in the past number of years has also been a dilatory detriment to the project. While the film most recently had lined up Luke Evans, the names of James McAvoy, Alexander Skarsgaard, Tom Hiddleston, Norman Reedus and even Huston's American Hustle co-star, Bradley Cooper (at that point, only known as a comedy star, well before his dramatic chops were acknowledged) were, at various points each very much in the mix to don the morbid makeup as the murdered musician, turned maker of massacres. As a result, this film has had an extremely difficult time getting off the ground.
In his confirmation of the identity of the star of The Crow, O'Barr would explain how the casting process, while experiencing yet another delay, was actually serendipitous. He explained how the recent exit of Luke Evans occurred as the result of a mixed set of circumstances from the rising stardom of Evans, who had initially signed on to the remake for scale pay, which, for this film, would have amounted to about $500,000. Since then, Evans' stock has skyrocketed and now commands, at least according to O'Barr, about $6 million a picture. However, Evans allegedly would have still been game for the project at that pay rate, had it not been for more delays, as the film was still unable to nail down a reliable starting date for production.
However, Huston, who O'Barr further complimented by calling a "commanding" actor, is still not widely known, despite his impressive resume from films such as Outlander (where he uncharacteristically sports some Crow-like long hair) and Kill Your Darlings. That may change after his upcoming role starring in next year's remake of Ben-Hur. Just as that role will have Huston attempting to fill the shoes…er, sandals of Charlton Heston from the original 1959 film, likewise, The Crow will have Huston stepping into a role immortalized in 1994 by the late Brandon Lee in what would be his final performance. Let's just hope for the sake of this project that he, too, doesn't become too big of a star before production commences, causing him to jet.
Your Daily Blend of Entertainment News