Why Gambit Has Been Delayed, And When It's Likely To Start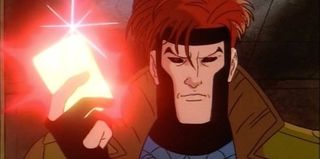 Fox was poised to have a huge year when it comes to their superhero universe. Between the massive success of Deadpool and X-Men: Apocalypse, which will like also be a hit, they won't exactly have a bad 2016, but their third film in what would have been a trifecta, Gambit, just can't catch a break. Besieged by problems from all sides, fans will have to wait even longer to see the latest big screen incarnation of the Cajun mutant as the script undergoes rewrites and director Doug Liman shoots another project before production finally gets rolling later this year.
Gambit was originally slated for release on October 7 of this year, but it was removed from that slot at the same time that Fox announced two new dates for as-yet-unnamed superhero movies. We don't have a hard and fast release on the schedule yet, but production was supposed to begin this spring. According to The Hollywood Reporter, however, that isn't going to happen. Their sources revealed that filming has now been pushed all the way back to the end of 2016 so Reid Carolin (Magic Mike) can rewrite the script. In the meantime, director Doug Liman (Edge of Tomorrow) will tackle a psychological thriller called The Wall for Amazon Studios.
This is just the latest bump in the road for Gambit. Star Channing Tatum became embroiled in a very public salary dispute, and there were rumblings that he might walk away form the superhero adventure that has been described as a heist film. That all got worked out just in time for original director, Rise of the Planet of the Apes' Rupert Wyatt, to abandon ship. Doug Liman climbed on board shortly after, but by then it was already clear Gambit was not going to make its original release date without being horribly rushed. A smaller-scale superhero joint in the vein of Deadpool, it wasn't going to be a huge spectacle on par with X-Men: Apocalypse, but even so, that was cutting it a bit too close.
Though we now know production on Gambit will begin closer to the end of 2016, we still don't know when precisely we'll get to see it. Fox secured two dates last month, October 6, 2017, and January 12, 2018, and though they revealed that superhero films will fill the slots, they neglected to inform us of which ones we'll see. Given that this October date is almost exactly a year after Gambit was supposed to hit theaters, it would make sense to use the Ragin' Cajun's solo film to fill that vacancy. Then again, the studio also had big success with an early-in-the-year release with Deadpool, so perhaps they want to see if lighting will strike twice and release Gambit in January of 2018.
Your Daily Blend of Entertainment News